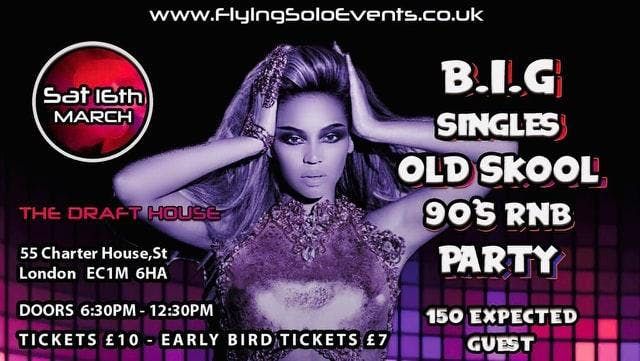 The Draft House (Farringdon), 55 Charterhouse Street, , London, United Kingdom
Eventbrite
Spread the word
BRAND NEW VENUE - I'm please to announce we're going to be partying at a fabulous new venue with great drinks prices and an amazing HAPPY HOUR negotiated especially for our group.
You asked for it - you got it! By popular demand...We're devoting our music on this night to old school dance & party classics, Kisstory & R&B... It's going to be a massive night with lots of dancing, but if you need a break we have an upstairs quieter mingling room and a downstairs partying room at this venue - perfect for if you want to chat and party, or a combination of both!
Please read our EVENT ATTENDANCE GUIDELINES (
https://www.meetup.com/Flying-Solo-Events/messages/boards/thread/50637619/0/#130206340
) and choose events that are suitable for your needs.
EVENT INFO:
Please 150+ (expected) other friendly, relaxed, party loving London Singles for a fun night out at this AMAZING VENUE! This event is open to members of ALL AGES- ALL WELCOME. (By default there is a large age range, expect attendees to be late 20s to mid 50s)
Event hosts will meet and greet you upon arrival to make you feel relaxed and welcome. They wiill introduce you to other members if you so wish also encourage you to mingle. We have LADIES TABLE from 6.30-8.30 for ladies who want to attend solo and make friends with other ladies and share a cocktail or two before the party starts....
People arriving on their own - Its perfectly ok to arrive on your own, over 50% of our members turn up on their own... male or female, our event hosts will introduce you to other friendly and supportive members when you arrive. Our event hosts are wearing badges and are available all night if you need help - just ask.
FORMAT OF EVENT:
6.30-8.30 ARRIVALS - Intros/Ladies Table/Mingling
HAPPY HOUR/DRINKS until 8PM -
Meet & Greet - Introductions & Mingling with Low Volume Background Music
8.30- LATE Party Time with DJ Grant & Amazing Tunes - R&B, Party Classics, Mainstream Dance Tunes plus member requests.
LAST ENTRY: 9:30pm
DRINKS PRICES:
Happy Hour until 8pm - FANTASTIC HAPPY HOUR
50% OFF selected Bottles of Wine£3.50 Draught Lager & Medium Glasses Wine£3.65 House Spirits and Mixer - £5 cocktails£10 off Champagne/50% off Prosecco
Standard Prices
Wine - Prices start from £4.60 per glass
Prosecco from £4.95 glass/£28.50 bottle
Cocktails Standard Price from £10
Draught Lager Pint from £4.80
Ale Draft from £4.05
Soft Drinks from £2.50
Please check with individual bar staff at time of at time of placing your drinks order for prices.
FOOD: Kitchen is open for bar snacks and sharing platters - please see the menu and order with Bar Staff
CLOAKROOM: Cloakroom is available and MUST BE USED. We do not accept any responsibility for lost/misplaced items. Please take care of your personal possessions.
CHILL OUT ZONE/QUIETER AREA: We will be starting off the evening upstairs. At 8.30 the party room will open, upstairs will be background music, downstairs party music.
HOW TO FIND THE DRAFT HOUSE
Nearest Tubes: Chancery Lane/Farringdon7 minutes walk from Chancery Lane (Central Line- Night Tube)Exit the Station - walk east up Holborn, you need to be on the same side as BOUNCE FARRINGDON. Take 2nd left at Roundabout, continue onto Charterhouse Street, venue is on the left hand side of the road.
Important Info - Please read this information. When you RSVP?attend its on the understanding that you have read and understood this information:
• Please do some research and plan your journey PRIOR to departing. Using smartphone googlemaps/streetmap, my directions above, or just an old fashioned London A-Z prior to leaving and have some idea where you are going BEFORE YOU LEAVE.
• Dress Code: The venue operate a smart dress code, smart/casual - no trainers, sportswear or ripped jeans. FS is not responsible if you are unable to enter because you are not correctly dressed.
• We use a photographer at our events and we put the photos on our meetup page. If you do not wish to be photographed you must inform a party manager and the photographer WHEN YOU ARRIVE at the event. We may also do Facebook Live Broadcasting. We do not have any control of photos, videos & broadcasts that our members take, or what happens to them - therefore if you're not happy/comfortable with this please consider the suitability of our events and do not attend if its going to be a problem for you.
• PHOTO ID: The Bar operate a Check 25 policy. If you're lucky enough to look under 25, then you will be asked to prove you are over 21
• This is a paid meetup - price includes marketing, meetup site fees, hosts expenses, travel expenses, organisation and administration. If you do not wish to pay for the meetup please don't attend.
• The focus of our group & our events is Socialising/Meeting People/Making Friends/Having Great Nights Out. We are NOT a dating/matchmaking group. We do not guarantee or organise the M to F ratio at this event & you should be aware that OUR EVENTS ARE VERY POPULAR WITH MEN. If this is an factor that is going to affect the enjoyment of your event - please do not RSVP/attend/complain as this may result in the removal of you from the group. Please choose alternative meetups which are more suitable to your needs.
• Please make an effort to chat to people, participate and and mingle at the event. We bring venue and people together and there is no formula for fun.
• Please arrive earlier for better mingling and intros, especially if you are a new member.
• Places are non refundable, however you should let me know if for some reason you are unable to attend.
• ENTRY/GUEST LIST INFO: For entry to the event - all you need to do is quote your 'Guest List Name'. So when you purchase your ticket - you will need to enter the name you wish us to use on the guest list. Any guests of yours that arrive separately will need to quote your guest list name.
• Any constructive comments/suggestions/feedback is very much appreciated. Venting/Moaning is not. Please see event hosts on the night with any issues and/or forward your feedback to
sarah | flyingsoloevents ! co ! uk
after the event.