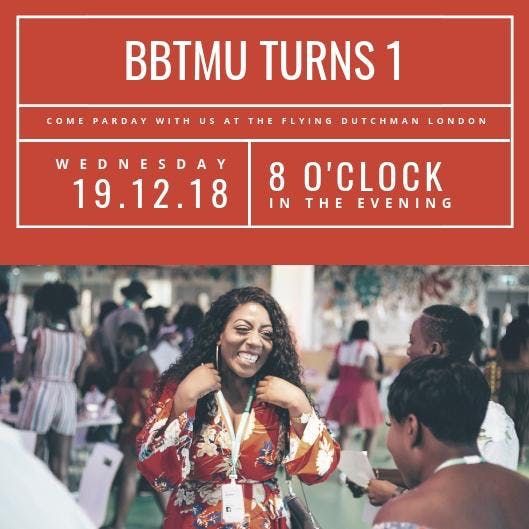 The Flying Dutchman London, 156 Wells Way, London, United Kingdom
Eventbrite
Spread the word
Hey guys!
Not only is it a very festive time of the year, but it's our BIRTHDAY! *shakus* BBTMU turns ONE and we can't get over what an amazing year it's been full of meet ups, pure fun and interactive vibes, great networks made, and of course, seeing more of the beautiful world!!
So we'd like to say a massive thank you for riding with us and for all of your support throughout the year, by throwing a pardy!!
Grab your dancing shoes and join us on Wednesday 19th December at Flying Dutchman from 8pm! It's a school night so make the next mornings tiredness worth it!!
Drinks on deck all night and music will be provided by none other than the brilliant resident DJ Nore. He'll be blessing us with the finest in EVERYTHING vibeseyy in the world of afrobeats, bashment, hip-Hop and R&B!! 
What's included in your ticket:
A drink on entry (alcoholic/non-alcoholic)
Vibes on vibes on vibes!
Tell a friend to tell a woman crush Wednesday to tell a man crush Monday.
We super look forward to seeing you so make sure you grab a ticket or two ASAP as you might be aware of how quick we sell out! 
Thanks and see you soon!
Hannah & Doyin, your BBTMU babymamas ;)