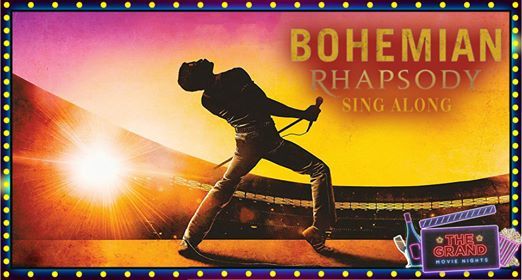 The Grand, 21- 25 St John's Hill, Clapham Junction, SW11 1TT London, United Kingdom, London, United Kingdom
The Grand
Spread the word
We have changed the date of this due to Covid-19. We won't put tickets on sale until we know we can go ahead with it, so the date may change again until we are 110% sure!
In the meantime click attending / sign up below to be notified.
Is this just real life? Is this just fantasy? Caught in a Bohemian Rhapsody Sing-Along Movie Night! ?
Join us as we turn The Clapham Grand into our very own Wembley Stadium, making you the stars of the show, singing-along to one of the frontmen and bands of all time, the one, the only Freddie Mercury & Queen!
Sign up for limited £8 pre-sale tickets here:
https://mailchi.mp/claphamgrand/hkk4s1tmk9
Alongside the Sing-Along Movie on our 25ft screen there will be Big Screen Sing-Alongs, We Will Rock You Rock-Offs competitions, a costume comp in our Freddie Mercury costume parade (your chance to pay homage to his amazing outfits) and all the confetti and balloon drops. ?
Expect:
? Sing-Along to the Movie!
? Rocktail Cocktails
⭐️ We Will Rock You Rock-Off Competitions
?Freddie Costume Comp
Free Air Guitars
? Unlimited Popcorn for £2
?Hotdogs & Nachos & More Tasty Delights Courtesy Of Hot Beige
? Games & prizes
? Our Massive Screen
? Our Famous Selfie Photo Booth
? Includes entry to the afterparty 'Saturday Night At The Grand' until 3am
Feel free to heckle the bad guys and cheer for your heroes, a costume is never un-appreciated, the bar & food stalls stay open during the movie and you can stay for free for the club night afterwards.
18+ Only
iCause.com promotes public events for free and helps event organizers connect with nonprofits to attract more participants like you.
Additionally, the iCause Global Foundation enables good people to fund great causes around the world. Together, our impacts are limitless!