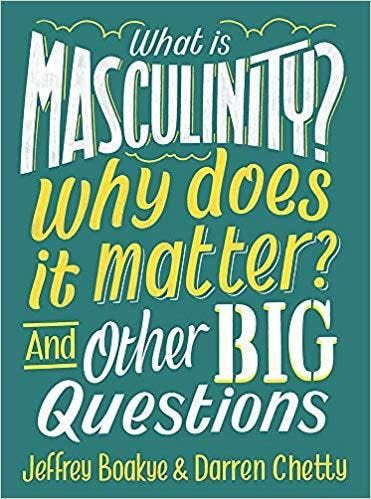 Centre For Literacy In Primary Education (CLPE), 44 Webber Street, London, United Kingdom
Eventbrite
Spread the word
We invite you to join authors Jeffrey Boakye and Darren Chetty to celebrate the publication of What Is Masculinity? Why Does It Matter? And Other Big Questions. Published by Wayland, this book is the latest in the 'Big Questions' series of books created by Michael Rosen. 
Darren and Jeffrey will be joined by contributors Fen Coles, Salena Godden, Bréanainn Lambkin, Dave Pickering, Iesha Small and Andy Williams. 
Masculinity is being discussed more than ever before, in a range of contexts. People talk about 'toxic masculinity', claim that there is a 'crisis in masculinity' or argue that we need to 'reclaim masculinity'. There have always been many ways of being a man, and many people who have claimed that there are correct and incorrect ways of being a man. This important and timely book looks at the big questions surrounding definitions of masculinity, and discusses where ideas of masculinity have come from and the effects of gender stereotyping. The authors and contributors share their experiences of and perspectives on masculinity and invite readers to think for themselves about the issues involved.
Jeffrey Boakye is a writer, school principal and music enthusiast from Brixton, now living and working in South Yorkshire with his wife and two sons. He has a particular interest in issues surrounding education, race and popular culture. Jeffrey has taught English in London secondary schools and sixth form colleges since 2007. His first book, Hold Tight: Black Masculinity, Millennials, and the Meaning of Grime is an exploration of grime through the analysis of seminal tracks in the genre. His second book, Black, Listed was published in 2019 to widespread acclaim. Jeffrey tweets @unseenflirt
Darren Chetty is a Teaching Fellow at University College London, UK. He has published academic work on philosophy, education, racism, children's literature, and hip-hop culture. His paper 'The Elephant in the Room: Picturebooks, Philosophy for Children and Racism' was recently included as required reading by SAPERE (The Society for the Advancement of Philosophical Enquiry and Reflection in Education) on its training courses. He is a contributor to The Good Immigrant (edited by Nikesh Shukla, 2016), co-author of How To Disagree (with Adam Ferner), and co-editor of Critical Philosophy of Race and Race (with Judith Suissa). Darren tweets @rapclassroom
The Centre for Literacy in Primary Education (CLPE) is hosting the launch. The CLPE is a charity working with all those involved in teaching literacy in primary schools.  Their work raises the achievement of children by helping schools to teach literacy more effectively and showing teachers how quality children's literature can be placed at the heart of all learning. In July 2018 CLPE published Reflecting Realities, the first UK study looking at diversity in children's literature. Funded by the Arts Council, our aim was to quantify and evaluate the extent and quality of ethnic representation and diversity in children's publishing in the UK. You can read the report here.