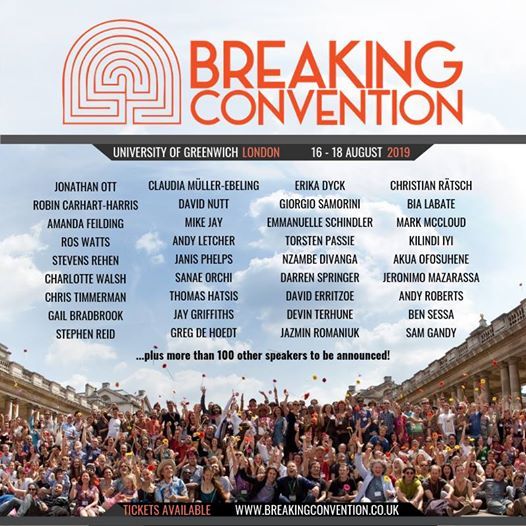 Old Royal Naval College, SE10 9 London, United Kingdom, London, United Kingdom
Breaking Convention
Spread the word
BREAKING CONVENTION 2019, a multidisciplinary conference on psychedelic research and consciousness, will be held on Friday 16th- Sunday 18th August at The University of Greenwich, London, UK.
Ticket sales and the call for papers, performances, workshops, stalls and volunteers will be opening shortly...watch this space!
CONFIRMED SPEAKERS INCLUDE:
Jonathan Ott, PhD
Claudia Muller-Ebeling, PhD
Christian Ratsch, PhD
Giorgio Samorini, PhD
David Nutt, MD
Erika Dyck, PhD
Robin Carhart-Harris, PhD
Ede Frecska, MD, PhD
Amanda Feilding
Mike Jay
Bia Labate, PhD
Emmanuelle Schindler, MD, PhD
Mark McCloud
Ros Watts, PhD
Andy Letcher, PhD
Torsten Passie, MD, PhD
Kilindi Iyi
Stevens Rehen, PhD
Janis Phelps, PhD
Nzambe Divanga
Akua Ofosuhene
Charlotte Walsh, PhD
Sanae Orchi
Darren Springer
Jeronimo Mazarassa, PhD
Chris Timmerman, PhD
Thomas Hatsis
David Erritzoe, PhD
Andy Roberts
Gail Bradbrook, PhD
Jay Griffiths
Devin Terhune, PhD
Ben Sessa, MD
Stephen Reid
Greg de Hoedt
Jazmin Romaniuk
Sam Gandy, PhD
The BC team are looking forward to seeing you all next year!
#breakingconvention #psychedelicresearch #psychedelicconsciousness #psychedelicconference #conference #london #thingstodoinlondon #psychedelic