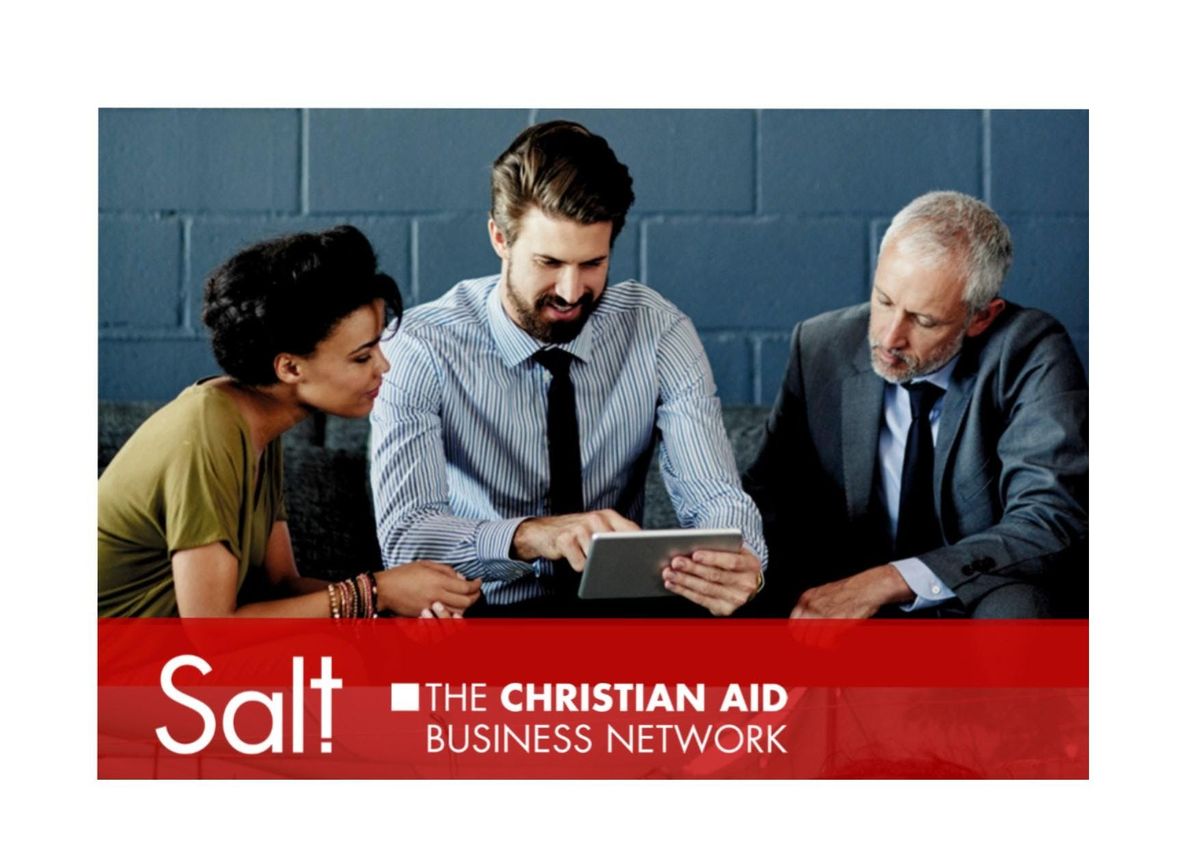 London, United Kingdom
Eventbrite
Spread the word
What does it mean to be a good stewards, and how do we use our businesses as tools to drive positive change for the future? 
In this interactive workshop Martin Slocome from Gates Green Solutions and the Salt Network team will lead us through some of the most pressing challenges facing businesses and the world today around climate, environment and sustainability; and point us in the direction of some of the opportunities too.   
The Christian faith challenges us to look again at what it means to live 'in communion' with creation, not dominating or exploiting it. Whilst future fit business practices urge us to develop solution driven policies which maintain our commercial viability whilst ensuring our local and global impact is positive and sustainable. 
Taking inspiration from Christian Aid's report 'Song of the prophets:  a global theology of climate change' we will explore how we can develop businesses 'in communion' with creation and the practical actions we can all take to be changemakers in our businesses.
We will be inspired and supported to think about how we can put values to work by leading change in our own business, provoking a community of change across faith and business networks and resourcing change by building lasting solution driven partnerships . 
Guest Speaker: Martin Slocombe
"I became a Christian in 1986 at Spring Harvest (Minehead). I have worked in the printing industry for over 30 years, seeing the incredible way in which digital technology has taken over an industry. In 2006 I helped to set up and later became a trustee of Haiti Hospital Appeal (HHA - Now known as Hope, Health, Action) to set up a maternity unit in the north of the Island, after a 10 year absence from Church (my wilderness years). 2010 I set up my own business in Sales and Marketing of Innovation products. In 2014 we started to look at and promote energy efficiency products and realised very quickly that, implementing technology is not the first step and that we needed a method to help staff to engage with a Sustainable/Environmental policy. That is when I started to write a business plan to help companies to engage with the SDGs. At the same time Carwyn Hill, CEO and founder of HHA was writing a 'Theory of Change' to inspire the Christian Church to engage with the SDGs. I now switch between these two roles, helping Businesses to increase their profit by reducing their running costs, retaining staff and working with Clean Growth UK and looking for, and encouraging partnerships with Christian NGOs of all denominations to inspire action and unify the Christian voice on the SDGs."
Delegate Dinner: 
Following each Network event we would like to invite all delgates to attend a networking dinner. The dinners are always wonderful opportunities to get to know one another, share stories and develop connections. The dinner will be in a local resturant and is at the delegates own cost. 
Christian Aid is working to eradicate poverty across the world, and is coming up with some innovative ways to do just that. We are inviting business leaders to work with us, and with each other, to tackle global poverty. The new Salt Business Network is open to anyone who owns a business, or is in a senior management position within a commercial organisation. It is for leaders who want to join a movement of like-minded people, who will learn about putting in place more responsible business practices, and about sustainable development, through the lens of faith. To find out more please see
www.caid.org.uk/salt
or email
salt | christian-aid ! org