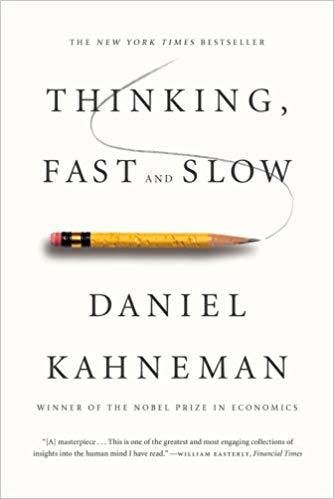 Ozone Coffee Roasters, 11 Leonard Street, London, United Kingdom
New Zealand Business Women's Network
Spread the word
Thinking Fast and Slow
By Daniel Kahneman  (Winner of the Nobel Prize)
Need a dose of inspiration?  Love to read about new concepts and unpick then with other like-minded people?  Fancy doing all of this over a good ole kiwi-style brunch?   
Then, grab a reading posy and get ready for Book Business Brunch!   
 'A lifetime's worth of wisdom' Steven D. Levitt, co-author of Freakonomics 'There have been many good books on human rationality and irrationality, but only one masterpiece. That masterpiece is Thinking, Fast and Slow' Financial Times 
Why is there more chance we'll believe something if it's in a bold type face? Why are judges more likely to deny parole before lunch? Why do we assume a good-looking person will be more competent? The answer lies in the two ways we make choices: fast, intuitive thinking, and slow, rational thinking. This book reveals how our minds are tripped up by error and prejudice (even when we think we are being logical), and gives you practical techniques for slower, smarter thinking. It will enable to you make better decisions at work, at home, and in everything you do.
Attendees of BBB will join in on an informal facilitated discussion to share key learnings, further explore key concepts, ask questions back to the group and share transfer of knowledge into real-life experience.    
So, lovers of Books, Business and Brunch push your thinking to another level and join us. 
Meet-up and booking    
"Thinking Fast and Slow" meet-up: Saturday 16 February 2019, 9.30 - 11.30am   Where: Ozone Coffee Roasters, 11 Leonard Street, London EC2A 4AQ   Cost: £22.15 (including VAT, service + Eventbrite booking fee)   
This includes an awesome Kiwi-style brunch prepared by the talented chefs at Ozone and hand crafted hot drink (all sourced with kindness).    
Where to source "Thinking Fast and Slow"?   
Check out your local library  
Order online from:  
www.foyles.co.uk
www.whsmith.co.uk
www.amazon.co.uk
"Since joining the BBB sessions I've started to read non-fiction, which I'm really enjoying because they are what I describe as personal development books and I can apply what I'm learning to various aspects of my business."  Bee Christie, WorkingBeeProductions.com