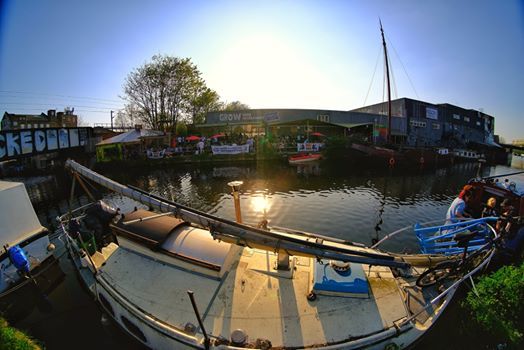 Grow, Hackney, 98C Wallis Road, Main Yard, Hackney Wick, London, United Kingdom
Grow, Hackney
Spread the word
Book an afternoon mezze on the Grow's Garden Terrace in this hidden haven in Hackney Wick and watch the River Lea go by.
With every booking, each person will get:
Glass of Wild Thing Organic Prosecco or Signature Brew IPA and and mouth watering snack on arrival
Personal mezze (meat, veg and vegan options available) served to your table
We'll be playing background sounds of jazz, world and percussion to give you a flavour of the typical live music programme Grow is known for, which we will be bringing back when safe to do so but in the meantime, just chill...
Table for 3.5 hours
MENU
FOR MAIN
CHOICE OF EITHER:
Two grilled pita breads with grilled free range chicken shawarma & whipped tahini
(meat option)
OR
Two grilled pita breads with marinated aubergine, baba ghanoush & whipped tahini
With cracked wheat & parsley salad, broad bean & dill hummus, burnt tomato ezme, marinated feta (vegan feta option) & pickles
(Vegetarian and vegan option)
Things to know before you book
The session starts at 3pm and finishes at 6.30pm
When booking you will select a slot from when your mezzes will be served (you must arrive on time for your mezze but you can arrive before to make the most of session)
When booking you preselect your drink and option of sustainably sourced meat, veg or vegan mezze (please note: there is a £5 addition per person for the meat option)
Order and pay for drinks from your table via the Grow, Hackney app (details will be given in confirmation email)
We have reimagined the space and the way we operate you help keep a great atmosphere whilst keeping you as safe as possible.
iCause.com promotes public events for free and helps event organizers connect with nonprofits to attract more participants like you.
Additionally, the iCause Global Foundation enables good people to fund great causes around the world. Together, our impacts are limitless!