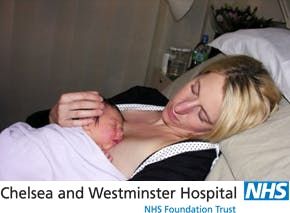 Chelsea and Westminster Hospital, Maternity Reception, Level 3, Lift Bank C, London, United Kingdom
Eventbrite
Spread the word
Come along to our 2 hour (approximately) breastfeeding workshop which takes place in a relaxed and informal environment.
We will cover the benefits of breastfeeding, the tips and tricks to effective attachment and feeding, common misconceptions, discuss ways to overcome any potential difficulties you may face and you'll learn where to seek help should you need it!
You don't need to be a first time mum to attend – everyone is welcome, partners too but please don't forget to book them a space too!
The workshop is very popular so if you can no longer attend, simply log on and cancel your space(s) through this website. 
The room can be quite warm so you might want to dress to accommodate this.
Families who are booked at Chelsea and Westminster are prioritised for spaces. If you are not booked at our hospital, please contact the Infant Feeding Team (
infantfeedingteam | chelwest ! nhs ! uk
) to see if there is availability for your preferred timeslot.