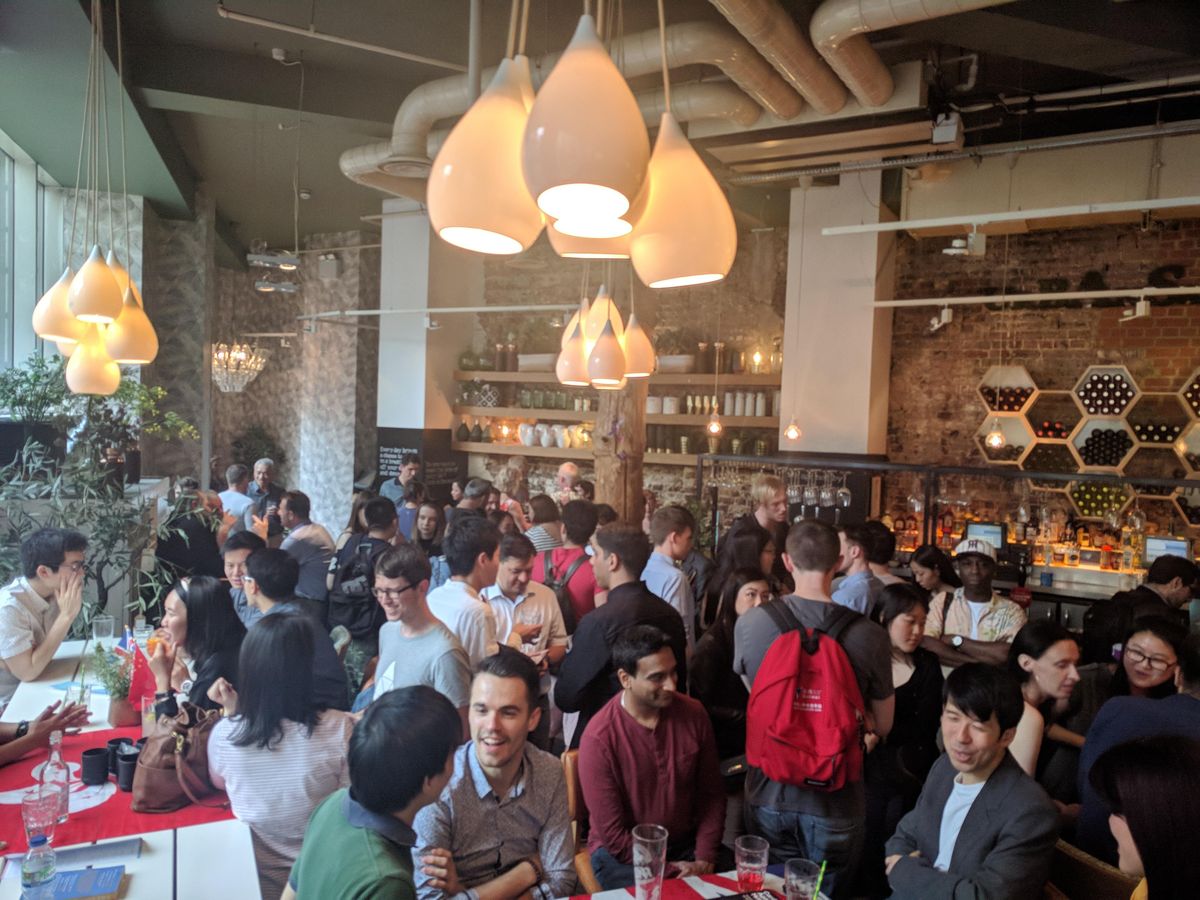 The Folly, 41 Gracechurch Street, London, United Kingdom
Eventbrite
Spread the word
隔周舉行的語言交流活動人物﹕我們是一群有意練習英語及普通話的參加者,約50至60人。有土生土長的倫敦人,也有來自歐洲各國的人士(例如﹕法國、意大利、波蘭)。說中文的代表來自中國及台灣,亦有香港參加者及於不同國家長大的華人。目的﹕1) 透過日常對話提升英語、普通話2) 認識來自世界各地的朋友內容﹕形式很彈性,你可帶上筆記認真學習,亦可透過輕鬆的遊戲(麻將,撲克牌,大話骰)學習地道的英語。地點﹕於Monument Station附近的酒吧Folly時間﹕下午2時半開始,大約7時結束。部分參加者會於活動結束後前往其他餐廳一起晚膳。你可按工作/私人情況晚點到達或早點離開。費用﹕全免 (歡迎樂意者自由捐助)也許你擔心......「我的英語不好」﹕參加者語言水平各異,初階至高階均有,大家都很有耐心,因為很多普通話初階人士渴望得到你同樣的包容。「我一個人參加」﹕很多參加者也是/曾經單刀赴會,友善的參加者加上輕鬆的氣氛,相信你很快能融入其中,認識很多語言夥伴。
This is a free English\Chinese language exchange.
We meet fortnightly at The Folly bar by Monument station. The meetup begins at 2:30 and runs until about 19:00. You are welcome to arrive and depart when you like as the event is informal. There's no charge although donations are accepted to help cover costs.
You can practice Chinese\English by conversing casually, or by finding a partner and sitting down to study and take notes. We also provide many games such as Mahjong (麻将), story dice, cards against humanity, uno, cards and Liar's dice (大话骰), so you're welcome to take part in whatever style of practice you like.
We have a good mix of English and Mandarin speakers and usually 4-5 Cantonese speakers too. Usually about 50-60 people in total. Many people come on their own so you won't be alone if you choose to do so, it's very easy to find a group to join and get involved.
The bar is opposite Starbucks\Santander bank and Monument station. (If you exit from Monument it's right outside, if you exit from Bank station it's 5 minutes walk)
Find us on Facebook: 
https://www.facebook.com/groups/238694119802685/
/>