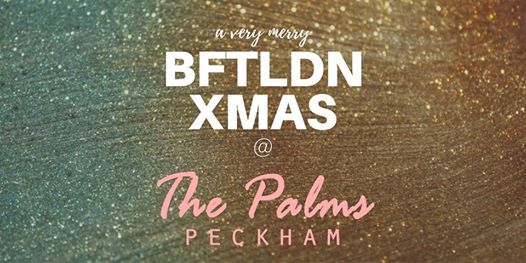 Peckham Palms, Unit 1 - 10 Palms Arcade Bournemouth Close, SE15 4PB London, United Kingdom, London, United Kingdom
Facebook
Spread the word
Join our growing travel community at a very special end of year party! If you havent been to any of our events this is the perfect time to party and network!
Meet like minded women who love to travel and make new friends for a day whilst our DJ spins on the deck. Come solo or get your friends to book a ticket and come along; A day of turn up, games, networking and a good time - you won't want to miss this!
A delicious meal is included with the cost of your ticket provided by Lime Hut who create modern Caribbean food.
Don't forget to make your selection at checkout!
BOWL FOOD MENU
Choice of topping served in premium palm leaf/coconut lite-bite sized bowls:
• Slow-cooked curry mutton
• Biabou Chicken (Vincy-style)
• Vegan Rasta Rundown (bean & sweet potato)
Bowl food accompaniments include all sides:
• Calypso Rice
• Sunshine Salad
• Sweetcorn Salsa
• Crunchy Vegan 'Slaw
All tickets include a glass of prosecco, mimosa or mocktail on arrival!
Raffle Prizes to be won:
Flight Vouchers
Global Food Gift bags from 3 regions in the world
Pamper Kits
Christmas goody bags
and more!
Being a black woman travelling the globe can be tough - we hope a bit of a turn up will remind you of how amazing you really are - go forth and explore the globe ladies!
About Peckham Palms
Peckham Palms is a new Afrocentric retail space, in the heart of Peckham. The Palms exists to support and grow London's lucrative Afro hair and beauty industry, with a mission to put the power back into the hands of the communities which they work with, and to create new opportunities for women to work collaboratively and to thrive.
About Lime Hut
A modern way to enjoy Caribbean food that was inspired by traditional flavours but cooked in a lighter and healthier way (pan frying, reduced salt, fresher ingredients). From humble beginnings as a supper club, it's making its mark on the Soho street food scene; their aim is to bring a taste of sunshine to the UK.
Remember to select your meal at checkout! For dietary requirements email LimeHut at
info | limehut ! co ! uk
quoting BFT Xmas Party, your name and dietary requirements(if any) as we are unable to make accommodations on the actual day of the event.