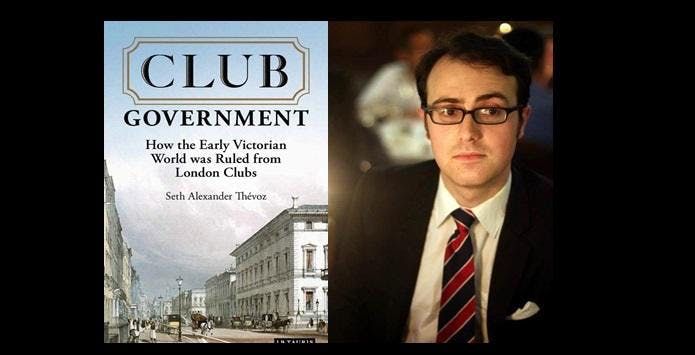 Westminster Reference Library, 35 Saint Martin's Street, London, United Kingdom
Eventbrite
Spread the word
Dr Seth Alexander Thévoz of Oxford University will take a look behind the closed doors of London's private members' clubs, charting their history, the reasons for their rise and fall, and their role in the corridors of power. 
Club Government is a major new study of the political role played by clubs in the nineteenth century, using a range of new sources to tell this previously-untold story.
  "A fascinating forensic study of the period's networks of power" Ian Hislop, Editor, Private Eye
  "We are in Seth Thévoz's debt for this splendid book, at once a scholarly work and an insider's account" Prof Eugenio Biagini, Cambridge University
  "Presenting a wealth of new evidence, he has produced a tour de force of scholarship" Dr Piers Brendon, author, The Decline and Fall of the British Empire
Dr Seth Alexander Thévoz is a political, cultural and social historian, specialising in the history of clubs, and in the history of corruption. He is an Associate Member of Nuffield College, at the University of Oxford, and has taught at the Universities of Georgetown, London, Oxford and Warwick. He writes for Private Eye magazine, and is Honorary Librarian of the National Liberal Club in London. 
Westminster Reference Library
35 St Martin's Street, London WC2H 7HP
Please note there is no wheelchair, lift or ramp access to this building