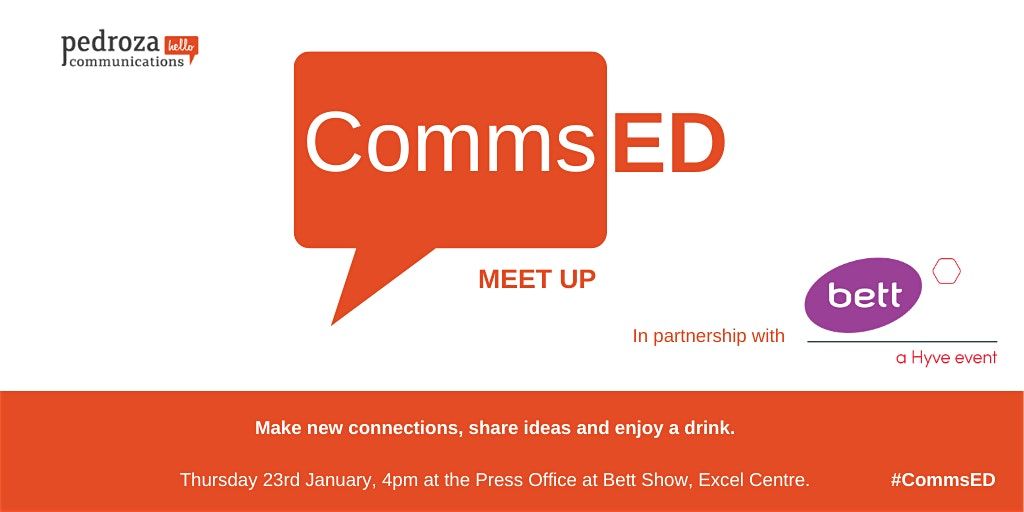 Press Office, Bett Show,, London, United Kingdom
Eventbrite
Spread the word
We've teamed up with the organisers of Bett, the education technology show, for a special CommsED to take place in the Bett press office 4pm-6pm on Wednesday 22nd January 2020. 
CommsED is a social meet up organised by Pedroza Communications. It is an exclusive free event specifically for senior comms people working across the education sector.  We bring together a carefully selected group of senior education marketing and comms people from a range of complimentary organisations. We believe, this offers a chance for everyone to make really useful connections, share ideas and come away feeling inspired!  If your role involves engaging with the schools workforce in some way we'd love you to come. 
Bett has kindly offered to host and will be covering the cost our drinks. The event is invitation only and limited to 30 places.
NB. In order to access this event you must also register for the event and as a vistor for Bett: 
https://www.bettshow.com/visiting-bett/bett-2020-visitor-registration 
/>
We look forward to seeing you there!  

Anna and Susan

#CommsED