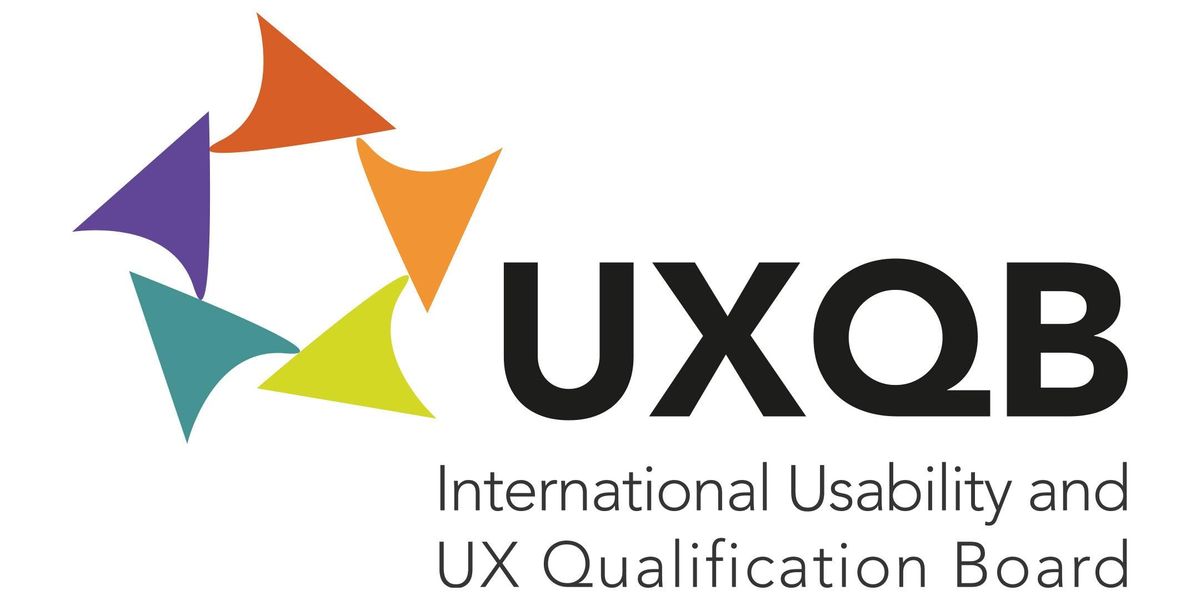 TBC, London, United Kingdom
Eventbrite
Spread the word
Use your UX knowledge to get certified!
The 3-day Certified Professional in User Experience Foundation (CPUX-F) training and UX certification exam is ideal for learning how to apply UX throughout your design process. 
Developed by the International Usability and User Experience Qualification Board (UXQB), this comprehensive training leads to an internationally recognised qualification for those who pass the certification exam.  
Following the user-centred design process of the International Standard ISO 9241, the training covers best practice UX research methods and experience design principles.  You'll also have many opportunities to apply these skills during the hands-on interactive exercises throughout.
What will I learn?
The course curriculum and certification programme is developed by the UXQB, a consortium of international experts in usability and user experience. The CPUX-F training and certification exam covers the fundamentals of usability and user experience in the areas of:
How to apply usability principles and guidelines from the earliest stages of the design process through to final evaluation
Understanding and defining the context of use: procedures for analysis, user observation, interview, developing personas, scenarios, and identifying user groups
Learn how to gather and specify user needs and requirements
Creating the user interaction: interface design heuristics and guidelines, low- and high-fidelity prototypes, dialogue principles, and best practice in error messaging
Usability testing and other evaluation methods: a step-by-step approach to preparing and running usability tests, applying heuristic evaluations and designing insightful surveys
Process management and application of methods: The key roles in an organisation applying the UX process model
Who is the training and certification for?
The training is for anyone professionally involved in developing or ensuring the usability or user experience of products and digital services.  It will benefit anyone who wants to learn how to apply the user-centred design process to create intuitive experiences based on user research and best practice. UX designers, product managers, software developers and designers of all interactive systems will benefit.  The training and qualification through the CPUX-F exam will:
ensure that your knowledge of usability and user experience is completely up to date
enable you to acquire knowledge and skills that follow the best practices and established conventions
prove your knowledge of usability, user experience and user-centred design
acquire knowledge and skills that follow the established best practice for user-centered design
provide access to higher certificates in the areas of usability testing (CPUX-UT) and user requirements engineering (CPUX-UR)
Course modules and prices
We are flexible in how you get this qualification, from attending the full training to just sitting the exam.  The options are:
Module 1: CPUX-F Course - 2-day classroom training, £975 + VAT
11 Feb     : 09:00 - 17:00
12 Feb     : 09:00 - 17:00  
Module 2: Crash Course - Half-day intensive review of the entire curriculum and practice certification test     £235 + VAT
13 Feb     : 09:00 - 13:00  
Module 3: Certification - Test and certification  £290 + VAT
13 Feb      : 14:00 - 15:30 
Booking Discounts and Options
Package Discount – If you purchase all 3 modules, we offer a package discount of over 20% at £1,180 + VAT.
UXPA Members Discount – We offer a 10% discount off any or all modules for members of the User Experience Professionals Association or UXPA-UK – just enter your UXPA membership number and this discount code: UXPAUSERVISION when purchasing your tickets.
Group Discount – If 3 or more people from your organisation want to come, we can offer further discounts. Please contact us for further details.
We're flexible – If you wish to prepare yourself with the CPUX-F course curriculum, we have a number of places for just taking the crash course or the certification exam.
About the Trainer
The training is delivered by Chris Rourke, founder and CEO of User Vision.   Chris has delivered UX services for over 25 years in a variety of consultancy roles with clients from across the globe.  In addition to many UX consultancy projects, Chris has been part of the Comparative User Experience Evaluations designed by Rolf Molich to assess the comparative effectiveness and accuracy of core research methods such as usability testing and expert evaluations.   An experienced trainer, Chris will share his knowledge through examples and case studies in a highly dynamic and interactive training format.
Certification Test
In order to gain certification, you must pass the 75-minute test that consists of 40 multiple choice questions. To pass, you must score at least 28 points out of the 40 possible.   See an example of a complete certification test.
The examination is independently assessed and certified by The International Software Quality Institute (iSQI) the leading worldwide provider of certification examinations.
Cancellation policy
The following cancellation policy applies to all bookings made:
 30 days or more before training - full refund or attend a future course date 
15-29 days prior to training - 50% refund
7-14 days prior to training - 25% refund
6 days or less prior to training - no refund
You are most welcome to send a substitute for the originally booked delegate at any time by notifying us of their details. User Vision reserves the right to cancel all or parts of the course if an insufficient number of people register for the course.