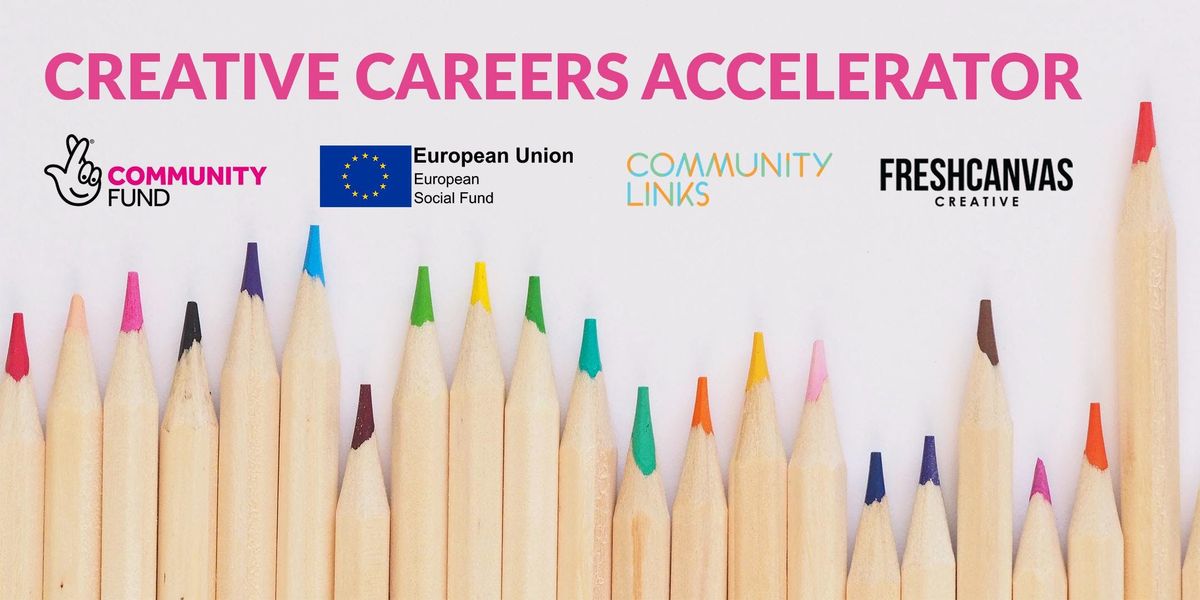 Community Links, 105 Barking Road, London, United Kingdom
Eventbrite
Spread the word
Creative Careers Accelerator is an opportunity to take your creative aspirations to the next level.
The programme is bought to you by Create Your Future, a project funded by The National Community Fund and the European Social Fund. Create Your Future is a personal development programme that works with BAME women who are not in work, to support them into sustainable employment. We work with a diverse group of women through a series of workshops geared to test their aspirations, develop confidence and challenge comfort zones. To be eligible you must not be in any kind of paid work and be over 18.
The programme is free, lunch and travel are provided and a free on-site creche is available upon request. Sessions will run every Thursday from 16th May to 27th June 2019. 
The Creative Careers Accelerator will cover;
Mindset
Goal setting
Career planning
Personal/Business branding
Portfolio prep
Networking and Pitching
Marketing
Job hunting and interview techniques
Starting a product or service business
Creative CV
Finance/Negotiating rates
The programme is led by Rakesh Tailor, founder of Fresh Canvas creative agency.
Rakesh has worked with over 30 fashion brands designing handbags and accessories and has a breadth of experience with both creative and business aspects of the industry.
After working in house with brands for many years, he started Fresh Canvas in 2012 and has since worked with both fashion and non-fashion businesses on creative direction, branding, marketing, websites, photography and video. His designs have featured in stores across the world and he continues to consult established brands.
Whether you are looking to get your foot on the job ladder or start your own business this accelerator can help you navigate your way there with invaluable insights from Rakesh's experience.
We aim to make the group sessions interactive and encourage all participants to follow the process and stay accountable to get the most out of it.
We look forward to welcoming you onto the accelerator.