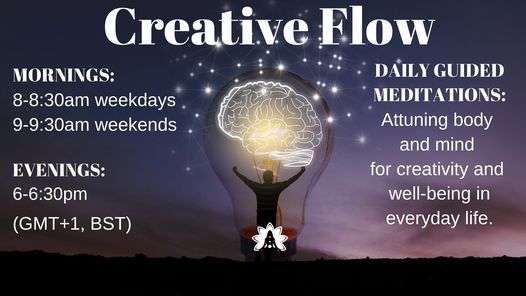 London, United Kingdom
Ecstatic Dance London
Spread the word
TAP INTO YOUR CREATIVE FLOW STATE
Welcome to the Creative Flow Dojo®
Daily 8am-8:30pm (9am start on weekends) or 6pm-6:30pm
Join us for these Creative Flow Guided Meditations for Accessing Optimal States of Health, Wellbeing, and Creativity
• Creative Flow - The optimal body-mind state of consciousness where we feel and perform at our best.
• Dojo - A dōjō is a space for immersive learning and practice. This term is traditionally used within the field of martial arts.
With all the challenges we are now facing, we are strongly invited to shift our consciousness to greater levels of intelligence. Accessing the creative mind is one such necessary shift.
And right now, and at this historic time, with a lot of us working or spending time in our homes, it's a good opportunity to learn to tap into our creative intelligence more consciously.
CREATIVE FLOW DOJO: Guided Meditations - Attuning Body & Mind for Wellbeing
Join us for these daily live-streamed Creative Flow meditations. Dive deep into techniques, guided meditations, and processes that will deepen your experience of your "creative flow state".
PRACTICAL DETAILS:
Where is it? Online via Zoom
When is it? Daily Two sessions to choose from:
- Mornings 8-8:30am (9am start on weekends) or
- Evenings 6-6:30pm
SIGN UP HERE:
https://www.eventbrite.co.uk/e/104752284904
Drop-in sessions are available, so just feel free to come for one session, or if you want to dive deep, Sign up for all 7-sessions, Book a 1-to-1 session, or even Sign up for the whole month!
"We can't solve the problem, from the same level of thinking, that created it" - Albert Einstein
Many of us know what it's like to be in optimal state of health and wellbeing, what we call a state of "creative flow" - but do we have to just wait for inspiration to strike, or is there a way that we can "hack the zone'?
During these times of so much uncertainty it's so easy to feel unmotivated, uninspired, and simply unproductive.
A regular creative flow meditation practice is a pro-active way to keep your mind calm and positive, with creativity flowing.
Live-Streamed Creative Flow Meditations with Seth
Please join us for our live-streamed half-hour morning, or evening meditations every week-day, and feel free to share with anyone who you feel might benefit.
Please Sign up here, thank you:
https://www.eventbrite.co.uk/e/creative-flow-dojo-guided-meditations-attuning-body-mind-for-wellbeing-tickets-104752284904
4 LEVELS OF ATTENDANCE:
Level 1 - Cost £5: 1 x Drop-in session either 8am (9am on weekends) or 6pm
Level 2 - Cost £20: 1-week membership: 7 x Creative Flow meditation sessions (a different meditation each day)
Level 3 - Cost £45: 1-week Membership *Plus* 1 Coaching session: 7 x Creative Flow meditations (a different meditation each day) + 1 x 90 minute 1-to-1 Generative Coaching/ Generative Trance session with Seth
Level 4 - Cost £60: 4-week Membership includes 1 x 90 minutes Coaching session with Seth
iCause.com promotes public events for free and helps event organizers connect with nonprofits to attract more participants like you.
Additionally, the iCause Global Foundation enables good people to fund great causes around the world. Together, our impacts are limitless!