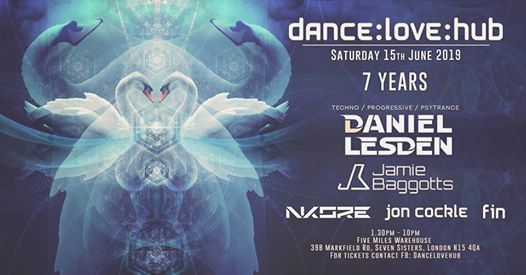 Five Miles, 39B Markfield Road, N15 4QA London, United Kingdom, London, United Kingdom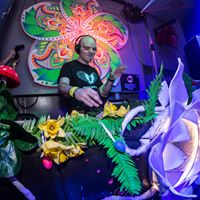 Dancelovehub
Spread the word
We have confirmed everything for our 7th birthday celebrations!
Dancelovehub has a new home, Five Miles a super-cool warehouse-club & lounge bar with tap room & kitchen in Seven Sisters, a 6 mins walk from the underground & train station.
Five Miles Warehouse, Seven Sisters with a great cafe/bar at the front and a purpose built dance temple in the back. A dancefloor set on rubber isolators, with bass cushioning in the back wall and a custom-built sound system.
*Tickets now on sale / Please scroll below for all the information
1st Tier SOLD OUT
2nd Tier £18.50 + Pay Pal bf = £19.36
Since 2012, dance:love:hub has been carving a distinctive niche in London's underground music scene. It showcases deeper and progressive forms of techno and underground trance, programmed to blend seamlessly with progressive psytrance and uplifting styles of full-on psy. Renowned for its knowledgeable crowd of friendly and enthusiastic regulars, its growing popularity has not intruded on a warm, intimate vibe, which is only enhanced by the stunning bespoke and handmade décor. Enduring relationships with a host of highly regarded underground producers and DJs, dance:love:hub consistently delivers high quality music and an unparalleled atmosphere of togetherness and enjoyment.
Saturday 15th June 2019 / 1.30pm - 10pm
Daniel Lesden - Headliner / JOOF Recordings / Digital Om Productions
https://soundcloud.com/daniellesden
Jamie Baggotts - Special Guest / Forescape Digital / JOOF Recordings
https://soundcloud.com/jamiebaggotts
DJ Jon Cockle - Resident DJ at Dancelovehub
https://soundcloud.com/dj-jon-cockle
N-kore - Rotating Resident DJ at Dancelovehub / Biopulse Records & Mutagen Records
https://soundcloud.com/n-kore
Fin McLaughlin - Rotating Resident at Dancelovehub
https://soundcloud.com/fintbeast
Set times:
1.30pm - 3pm Fin McLaughlin
3pm - 5pm DJ Jon Cockle
5pm - 6.30pm Jamie Baggotts (Special Guest)
6.30pm - 8.30pm Daniel Lesden (Headliner)
8.30pm - 10pm N-kore
Decor Emmazing Party Decor
Page Dancelovehub
Venue: Five Miles, 39B Markfield Rd, Seven Sisters, N15 4QA
Over 18's / Photo ID Required
INFORMATION on how to purchase tickets:
1st Tier *SOLD OUT
2nd Tier £18.50 + b/f 0.86 = Total : £19.36 *AVAILABLE
There are 4 ways to purchase tickets:
1) Please make payment of £19.36 via Pay Pal to
dancelovehubtickets | gmail ! com
2) If you do not have Pay Pal you can still use this link to pay via Pay Pal
https://www.paypal.com/cgi-bin/webscr?cmd=_s-xclick&hosted_button_id=DDN9B3N4RDH2J
3) You can message the promoter Emma Katherine Nicholson or via Dancelovehub and do a bank transfer for £18.50
4) It's £20 on the door on the day
*Please allow up to 12 hours for a response - Please leave a contact email / or PM Dancelovehub
If you don't have a PayPal account, you can use this link:
https://www.paypal.com/cgi-bin/webscr?cmd=_s-xclick&hosted_button_id=DDN9B3N4RDH2J
For any enquiries PM via our FB Page Dancelovehub