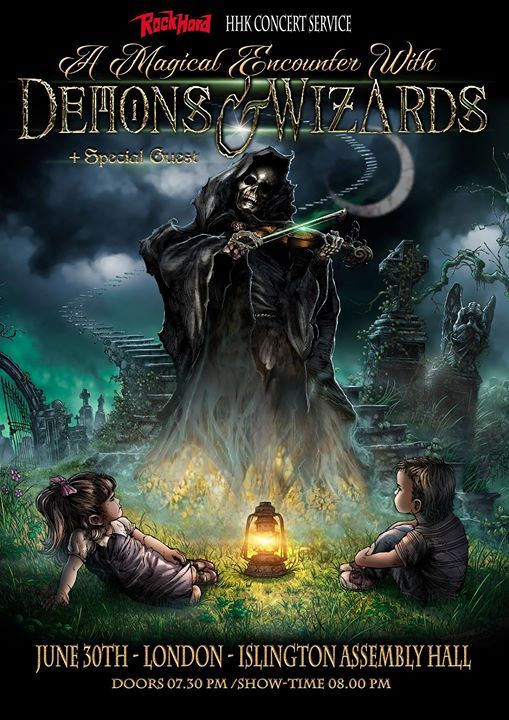 Islington Assembly Hall, Upper Street, Islington, N1 2UD London, United Kingdom, London, United Kingdom
Born Again Concerts
Spread the word
Born Again Concerts proudly presents:
A Magical Encounter With Demons & Wizards
First And Only UK Show!
featuring Jon Schaffer (Iced Earth) and Hansi Kursch (Blind Guardian)
plus Dendera
Doors - 7:30pm // Price - From £30.00 Adv.
Tickets -
http://po.st/hPlGeL
Opening act: 8:00-8:35pm
Demons & Wizards: 9:00-11:00pm
••••••••••••••••••••••••••••••••••••••••••••
Demons & Wizards -
www.facebook.com/WizardsDemons
"Terror Train" -
Thirteen years after their last album and 19 years after their last live performance,
Jon Schaffer (Iced Earth) and Hansi Kürsch (Blind Guardian) return with their Demons & Wizards project.
In 2019 they will perform at a few, chosen, once-only club shows and festivals.
It took 19 years for the longest and best male friendship of the metal scene to once more spring into action. Countless world tours and album releases of their own bands, Iced Earth and Blind Guardian, did not allow for both of them to take the stage together. Finally, that moment has arrived!
Demons & Wizards return as headliners of the 2019 Wacken Open Air and for several choice European festivals. The few intimate club shows will be the exception and may present the last opportunity to see Demons & Wizards live, up close and personal.
In a musical landscape that keeps being copied and watered down by the music industry's made up and manipulated acts, Demons & Wizards stand out as unmistakable, unique and true.
Their creations are a legend, their return is a resurrection!