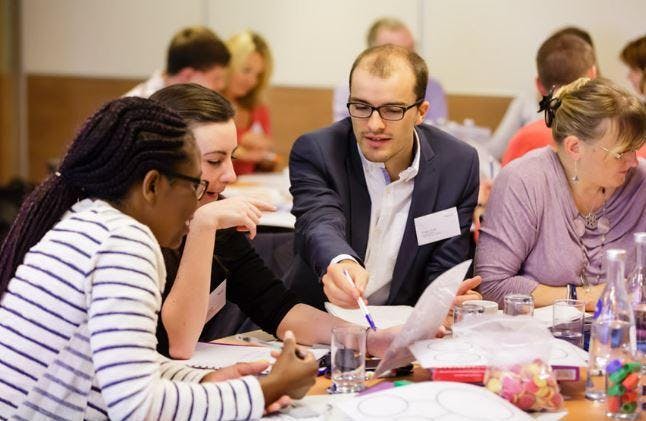 Redriff Primary School,, Salter Road, London, United Kingdom
Eventbrite
Spread the word
Developing Fluency from Variation - Primary
Led by Laurie Jacques, (SMaR+ PD, NCETM PD Standard Holder)
Fluency is a key element of the 5 big ideas (NCETM Mastery) and an aim of the National Curriculum. In Shanghai and other East Asian countries, pupils develop fluency through purposeful practice of exercises that are carefully varied that reveal the structure of the calculations they are working on.
The project aims to help develop KS1 & KS2 teachers' awareness of how to design exercises to develop fluency through purposeful variation. Teachers will work collaboratively to design sequences of calculations to form practice exercises and then use each exercise in live teaching to rehearse the accompanying pedagogy for promoting learning from variations.
What does the project involve?
The project will involve one full day of training, followed by five half-day lesson studies across the 2019-20 academic year.  Between sessions there will be a gap task involving trialling the use of the approaches explored in the lesson studies.  The workgroup lead will offer support in designing the sequences, demonstrating teaching and orchestrating the lesson study discussions. Participating teachers are expected to work collaboratively, teach a small group in front of the workgroup in their own and other schools, reflect critically on pupils' learning and their own professional learning. Participants are also expected to host a lesson study in their school for the workgroup.  
Who can apply?
The Work Group is intended for schools that demonstrate a commitment to developing a mastery approach to the teaching of mathematics. This would be ideal for schools who have previously engaged in Teaching for Mastery activities such as the Work Groups and are beginning to make commitments to sustain this approach in their schools. Similarly, schools with an existing strong approach to teaching number facts will also be included, in order to share best practice.
Work Groups
The Developing Fluency from Variation - Primary is free to attend; there is no funding for staff cover.
Please only apply for a place if you are sure you and your school can commit.
(The TBC dates will be confimed shortly)