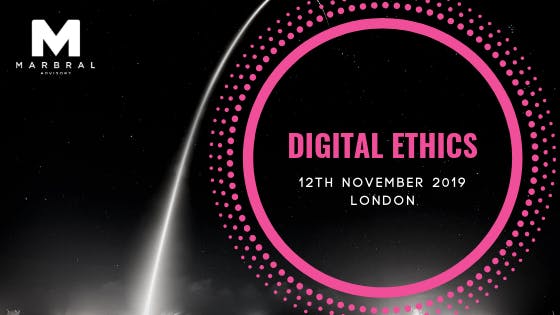 Gemserv Limited, 8 Fenchurch Place, London, United Kingdom
Marbral Advisory
Spread the word
Purpose trumps profit. Digital ethics is a competitive advantage. 
How do businesses stay in control of decisions in this age of automation? How might emerging trends like blockchain build trust between humans, or not? How do organisations ensure that right from the get-go they are embedding their ethical decision making in their organisational culture and aligning these with their values?
Detailed Syllabus:
Join us for this one day workshop, we will be exploring
central ethical concepts such as privacy, diversity, inclusion, transparency, responsibility, and social justice
explore the business case for digital ethics and why purpose over profit is so crucial to operating models
examining an ethical framework to help answer some of these questions.
review best practice and emerging ideas in other successful organisations
work through a methodology which includes data ethics to support you and your organisation to assess and evaluate your current position,
rethink your approach and adopt principles and practices which govern the appropriate and responsible use of technology
Outcome: Delegates will be able to develop a roadmap to embed ethics and assess KPIs to measure success, develop terms of reference for ethics boards and governance structures that work successfully.
Audience: CxO or equivalent senior leaders, HR Professionals, Compliance and Risk Professionals, Non-Executive Directors, those responsible for input to Digital Strategies, Target Operating Models and Business Model Creation.
Workshop Leader:
Ivana Bartoletti, Head of Privacy and Data Protection Gemserv will lead the workshop. Ivana regularly works with organisations creating practical frameworks around ethics and privacy to help businesses bring their values to life in a digital world. This is particularly relevant in the era of big data. She works across all sectors, and also focus on the privacy challenges surrounding the Internet of Things and Artificial Intelligence. She co-founded Women Leading in AI Network, a lobby group of women from different backgrounds aimed to mobilise the tech industry and politics to set clear governance around AI so that it works for everyone and is constrained by our human values. She is also a keynote speaker at industry events in the UK, commenting in national media such as the BBC and Guardian and also works internationally with organisations such as the OECD and UNESCO.