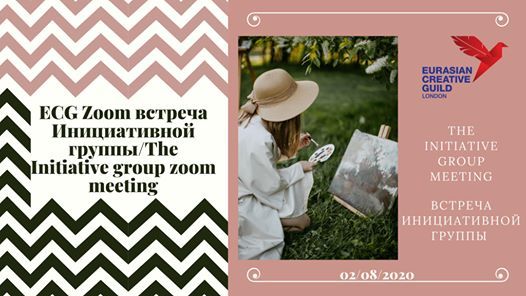 Eurasian Creative Guild, Suite 125, 43 Bedford Street Covent Garden,, London, United Kingdom
Eurasian Creative Guild
Spread the word
[RU/EN]
Друзья, известно ли Вам о том, что члены Гильдии – это активные люди, с множеством креативных идей? Именно поэтому в разных городах и даже целых регионах создаются инициативные группы. Инициативная группа - это своего рода представительство Гильдии в регионе, которое может инициировать и реализовывать собственные творческие проекты.
Итак, ближайшая встреча Инициативной группы состоится 2 августа в 17:00 мск в Zoom, собирается инициативная группа Сибирского Федерального округа Российской Федерации.
Мы ждем участников из:
• Республики Алтай
• Республики Тыва
• Республики Хакасия
• Алтайского края
• Красноярского края
• Иркутской области
• Кемеровской области (Кузбасс)
• Новосибирской области
• Омской области
• Томской области
Рады абсолютно всем, поэтому ждем всех на Zoom встрече 2 августа в 17:00 мск, до встречи!!))
Для того чтобы принять участие в видеоконференции вам нужно:
1. скачать и установить приложение "Zoom" (если у вас его еще нет), перейдя по ссылке
https://zoom.us/download
;
2. Запустить приложение;
3. В открывшемся окне нажать кнопку "Войти в конференцию";
4. В поле "Идентификатор конференции" нужно внести номер конференции "497 761 5151".
5. Далее: ввести код - 574202
6. Нажать кнопку "Войти в конференцию"
7. Получать удовольствие и пользу от встречи!
__
Friends, do you know that Guild members are active people with a lot of creative ideas? That's why initiative groups are creating in different cities and even entire regions. An initiative group is a kind of representation of the Guild in the region, which can initiate and implement its own creative projects.
So, the next meeting of the Initiative Group will be held on August 2 at 17:00 Moscow time in Zoom, and the Initiative Group of the Siberian Federal District of the Russian Federation is gathering.
We're waiting for participants from:
- Republic of Altai
- Republic of Tyva
- Republic of Khakassia
- Altai Territory
- Krasnoyarsk Territory
- Irkutsk region
- Kemerovo region - Kuzbass
- Novosibirsk region
- Omsk region
- Tomsk region
We are happy to see each and every one, so we are waiting for you at the Zoom meeting on August 2 at 17:00 Moscow time, see you!!)).
To participate in a videoconference all you have to do is install the "Zoom" app on your device, you can download it here :
1.
https://zoom.us/download
2. Open the app
3. Click on "Join a meeting"
4. Conference number "4977615151"
5. The code - 574202
6. Click on "Enter a meeting "
7. Have fun and benefit from the meeting!
iCause.com promotes public events for free and helps event organizers connect with nonprofits to attract more participants like you.
Additionally, the iCause Global Foundation enables good people to fund great causes around the world. Together, our impacts are limitless!