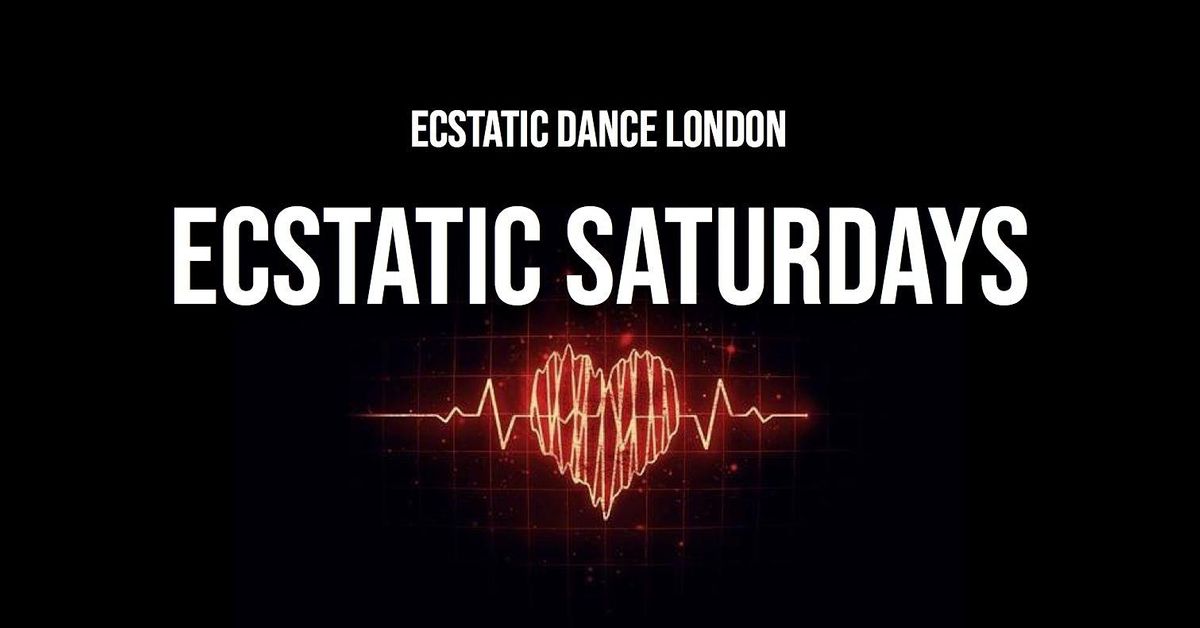 Siobhan Davies Studio, 85 Saint George's Rd, London, United Kingdom
Ecstatic Dance London
Spread the word
ECSTATIC DANCE LONDON presents: Conscious Clubbing
Ecstatic Dance + Cacao Ceremony + Sound Journey / Gong Bath
Dance the night away in a beautiful Dance Studio with like-minded people who love music and love to dance!
Plus complimentary RAW VEGAN Cacao Ceremony for all dancers & ending the evening with a beautiful Relaxing Gong Bath/Sound Journey 
Ecstatic Dance London - No booze, No Shoes, No Chit Chat, Move However You Wish!!
Join us for an evening of unfacilitated free-style ecstatic dance!There will be no dance teacher or guidance, just pure music! We'll let the music, the community and our own inner space direct our steps, our movements, our expression, our journey. 
Ecstatic Saturdays - Ecstatic Dance + Cacao Ceremony + Sound Journey
£20 Regular (discounts available if you book online) £10 concession (full-time students, please bring ID) on the doorYou can pay cash/card on the door. 
SAT, 7 DECEMBER​ (Elephant & Castle)
*5.45pm - 7.45pm Workshop: Heart-Body-Connection: Winter Warmer Event (read more info about the workshop by clicking on the link)(Please bring a reusable Water Bottle and Yoga Mat. No entry after 6:00, please arrive on time so that we can journey together)
7.45pm - 10.15pm Ecstatic Dance London +Cacao +Sound journeyVENUE: Siobhan Davies Studios, 85 Saint George's Rd, London, SE1 6ER(strickly no shoes on the dance floor due to venue's policy) 
*THERE IS A WORKSHOP FROM 5.45PM - 7.45PM, DISCOUNTS AVAILABLE IF YOU BOOK WORKSHOP + DANCE ON EVENTBIRTE. Entry for Ecstatic Dance is at 7:45pm (please arrive between 7:45pm-8:00pm) and then at 8:20pm we will have our opening circle with Cacao, and at 9.45pm a Sound Journey. 
Ecstatic Dance London guidelines: 1. No talking on the dance floor 2. Drug-Free, Smoke-Free, Alcohol-Free environment 3. No photos or videos, Mobile phones muted and out of sight 4. Care/Awareness for the space and each other 5. Move your body however you wish 6. You can dance alone, or with as many partners as (you) like to join. (If you'd rather not dance with someone, thank them for the offer by placing your hands in prayer position at your heart – Namaste.)
What to Bring: 1. Loose-fitting clothes that let you move your body and free yourself 2. Water and a water bottle. You can refill it at the venue.3. Please bring a blanket with you for the Gong Bath /sound Journey at the end of the evening!4. Please bring a yoga mat and blanket if you are attending workshop before Ecstatic Dance. 5. Please bring a yoga mat and cushion if you are attending Tantric Trance Dance workshop before Ecstatic Dance.
What to Expect: 1. Next-level, conscious, inspiring electronic dance music 2. A beautiful sacred space 3. A safe space for you to dance freely in 4. Vibrant people who love to dance and love music!
SAVE THE DATES:
31 DECEMBER 2019, CENTRAL LONDONEcstatic Dance London presents: NEW YEARS EVE CELEBRATION
JUNE 30th - JULY 5th, 2020, SPAINThe 3rd Annual High on Life - Ecstatic Dance Gathering
- An experiential playground for co-creating transformational experiences.- Life-affirming retreat beyond the old Drug and Alcohol paradigm.
Closest Airport: The retreat centre is a one hour forty-five minutes from Malaga, one hour from Granada airports. (Book event ticket by clicking on the above link) Our video from last years event in Portugal!
Please check out some of our videos on youtube:Cacao Dance Tribe - Ecstatic Dance Temple - Ecstatic Dance London - Ecstatic Dance Festival
Please join our amazing Meetup Community for updates on all our events!
CONNECT WITH US:
For more information or if you have any questions, please contact us: 
info | urubu ! com
Facebook Pages:
Ecstatic Dance London
URUBU
Ecstatic Dance Temple
Ecstatic Dance Festivals
Facebook Groups:
URUBU - Ecstatic Dance London
Ecstatic Dance London
Ecstatic Dance Temple Facilitator Training
Instagram:
@urubu_school_of_transformation
@ecstatic_dance_london
@u_r_u_b_u
Meetup:
Urubu's Ecstatic Dance & Moving Meditation Community
Ecstatic Dance Temple
Bioenergetic Alchemy UK
Youtube:
URUBU School of Transformational Arts