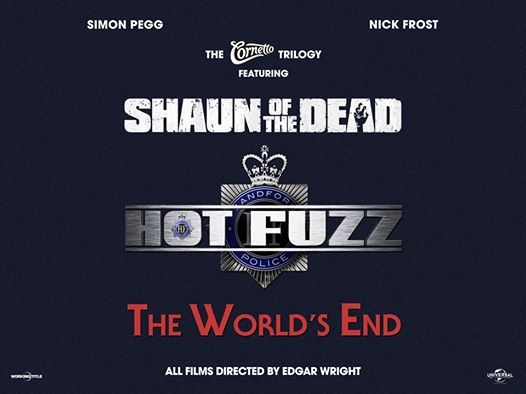 The Prince Charles Cinema, 7 Leicester Place, WC2H 7BY London, United Kingdom, London, United Kingdom
The Prince Charles Cinema
Spread the word
THE CORNETTO TRILOGY
Directed by Edgar Wright
Starring Simon Pegg, Nick Frost, Fence, Bill Nighy, Martin Freeman
A Trilogy of Blood & Ice Cream • 3 Films x 1 Ticket
2004 - 2013 | 350mins | UK | rated (15)
Shaun of the Dead (2004) [35mm] : Shaun (Simon Pegg) is a 30-something loser with a dull, easy existence. When he's not working at the electronics store, he lives with his slovenly best friend, Ed (Nick Frost), in a small flat on the outskirts of London. The only unpredictable element in his life is his girlfriend, Liz (Kate Ashfield), who wishes desperately for Shaun to grow up and be a man. When the town is inexplicably overrun with zombies, Shaun must rise to the occasion and protect both Liz and his mother (Penelope Wilton).
Hot Fuzz (2007) [35mm] : A British constable (Simon Pegg) feels certain foul play is afoot when a series of grisly accidents rocks his quiet village.
The World's End (2013) : Gary King (Simon Pegg) is an immature 40-year-old who's dying to take another stab at an epic pub-crawl that he last attempted 20 years earlier. He drags his reluctant buddies back to their hometown and sets out for a night of heavy drinking. As they make their way toward their ultimate destination -- the fabled World's End pub -- Gary and his friends attempt to reconcile the past and present. However, the real struggle is for the future when their journey turns into a battle for mankind.