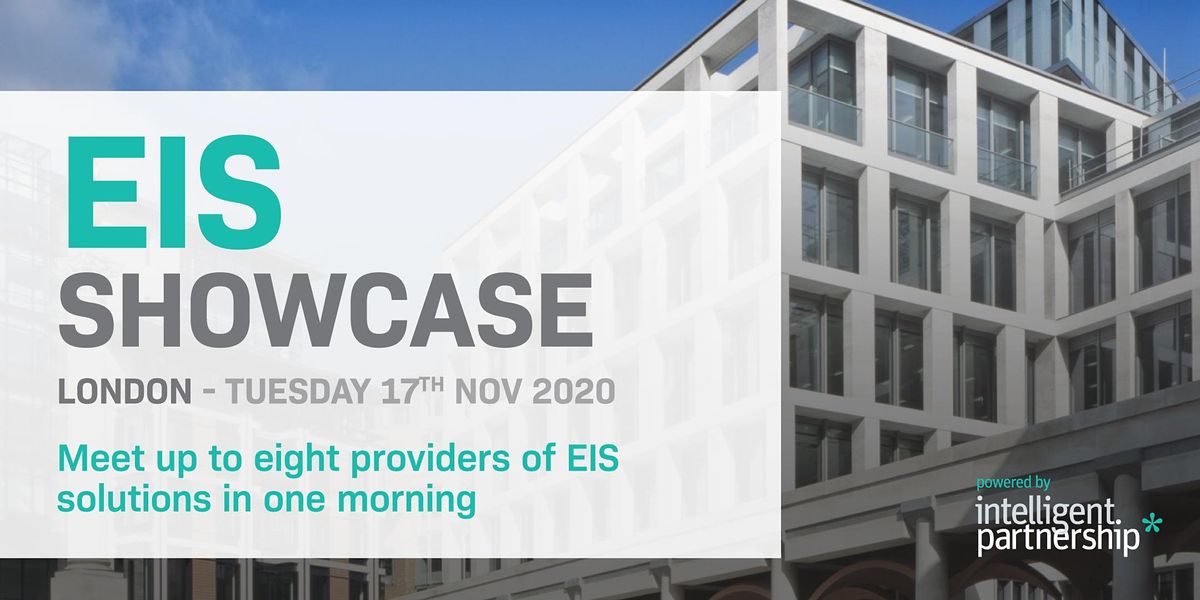 London Stock Exchange, 10 Paternoster Square, London, United Kingdom
Eventbrite
Spread the word
EIS Showcase for financial advisers and wealth managers
Meet up to eight providers of EIS investments and services in one morning
Attend our EIS Showcase to:
Hear leading Fund Managers talk about their investment solutions
Network with their investment specialists without having to commit to any further meetings
Learn about tax planning ideas based upon EIS
Find out about the underlying investment strategies
Compare key investment information, including charges and levels of risk and return
Leave confident that you have reviewed a representative sample of the principle solutions in the market
A genuine chance to compare Managers:
The content of our EIS Showcase is based upon our findings from surveying advisers for the annual EIS Industry Report. Each presenter is asked to cover the same five issues that we know are key concerns for advisers:
Details of Fund Manager: ownership, length of time in the market and financial strength
Investment objective of the product: growth, capital preservation, income, or a combination of all three, and the targeted level of annual returns
Details on the proposed underlying investments: how will they generate returns and how is liquidity achieved
Details of all the charges: borne by both the investor and the investees during the product's lifetime, including any performance fees and admin and/or deal fees
Differentiation: what differentiates the product from others in the market  
In this way, anybody who attends will be able to review the managers' tax-efficient investment offers on a like-for-like basis and then engage directly with their adviser facfing teams, saving the time and effort you would normally have to put into researching and sourcing these kinds of investments.  
Why should you attend:
This Showcase is designed to give you the opportunity to review a representative sample of smaller company investment solutions in one half-day event, without having to undertake your own expensive and time consuming research, or committing to any further meetings with BDMs.
Get answers to questions like these:
'What is the underlying investment strategy?'
'What risks do I need to consider when investing in smaller companies?'
'How much experience do the investment providers have in this sector?'
'What are the total costs to my client over the entire lifetime of the investment?'  
'I've already attended an Intelligent Partnership Masterclass'
Our Masterclass events are purely educational - that's why they are CPD qualifying. The speakers are there in their capacity as industry experts and thought leaders, and are under strict instructions to avoid overt sales pitches. The EIS Showcase turns that model on its head - it is ALL about sales pitches, but instead of the usual free-for-all, Intelligent Partnership are curating the event to ensure that you will get the same key information about each investment opportunity.  
 Read what people have been saying about our Showcase events:
"There is little enough education on this highly technical area of the market, so when you do have a chance to learn from and speak to 8 different providers at the same event, on the same day why wouldn't you attend? A well-structured, informative and well run conference, which was an excellent use of my time." Gareth Tregidon, Stafford House Investments
"What a great and succinct way to meaningfully compare providers and get an understanding of what they do, how they do it and what they charge for doing so." Graham Tiffin, Clairville York
"Like a website comparison site for BPR providers but in the flesh." Julian Hanrahan, Crowe Clark Whitehall
"A very well run event giving exposure to a large number of top providers in the BPR sector. Well worth attending if you are looking to research providers or increase knowledge in this area." Ian Paginton, Fraser Wealth Management    
 Timings for the day:
After a free breakfast, you'll watch eight of EIS investment offers speak for fifteen minutes each. If you like what you hear, you can follow up with the fund representative in the breaks, but there's no obligation to speak to any of them if you don't want to.
08.30 - Registration and coffee, teas etc. 09.00 - Opening remarks09.05 - Fund Manager elevator pitches09.35 - Fund Manager presentations (Part 1)10.40 - Coffee break & networking 11.05 - Introduction to the second session11.10 - Fund Manager presentations (Part 2)12.10 - Q&A with the Fund Managers12.25 - Closing remarks12.30 - Lunch  
By registering to this event you agree for your email to be passed on to the managers speaking at the event. If you do not wish to be contacted by the sponsors after the event please get in contact with
[email protected]
iCause.com promotes public events for free and helps event organizers connect with nonprofits to attract more participants like you.
Additionally, the iCause Global Foundation enables good people to fund great causes around the world. Together, our impacts are limitless!