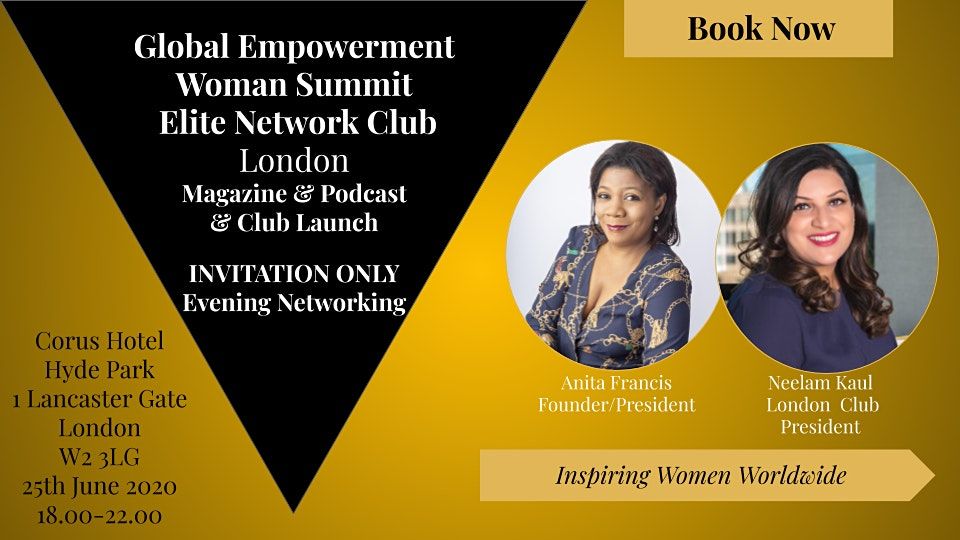 Corus Hotel Hyde Park, 1 Lancaster Gate, London, United Kingdom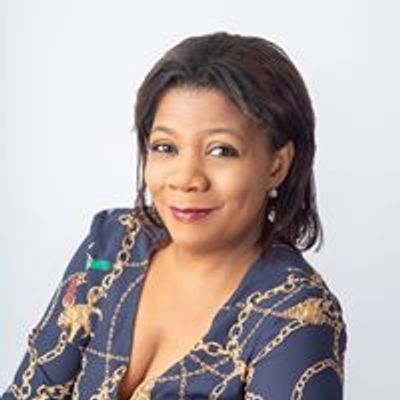 Global Empowerment Woman Summit
Spread the word
Calling all Women in Business - INVITATION ONLY - Magazine & Podcast Launch
About this Event
THIS IS AN IMPORTANT COMPANY ANNOUNCEMENT
Due to the COVID-19 epidemic worldwide we have decided to postpone all upcoming events until further notice.
This global virus has had an impact on our business but please note as soon as all bans are lifted to travel we will then continue on our important journey to #inspire and #empower all women around the world.
In the meantime if you have any questions please do not hesitate to contact anitafrancis | globalempowermentwomansummit ! com
Connecting and Empowering Women in the UK and Globally
Welcome to Global Empowerment Woman Summit – Elite Network Club London. We are delighted to now connect with Female Entrepreneurs on an International level. Our summits and networks are aimed at all women in business at any level and together we connect and network and inspire each other to achieve the best. We offer a platform to network, connect, empower, inspire and collaborate. Our network is aimed at high quality, sophisticated and elegant Women in Business.
Women who empower each other allows each woman to have a voice and through our Empowerment Summits and Networks in the UK and Internationally women from around the world all share our ethos. Women entrepreneurship is on the rise and together we are stronger.
WE ARE NOW LAUNCHING IN CENTRAL LONDON
An evening of connecting and networking. The evening will involve a podcast and global magazine launch. Interviews with real women and sucessful female entrepreneurs.
18-00-22.00 Evening Networking
Global Empowerment Woman UK Summit launched in Birmingham on 21st September 2018 at the beautiful and prestigious venue Edgbaston Priory, Birmingham. A perfect venue which have produced many successful women tennis players throughout the years. After a successful launch we are now launching in 11 countries in 2020 with many more planned. Our empowerment platform raises the profile of our members, so they become more visible and more credible. We host 5 network meet ups per year (quarterly) in the UK and globally alongside our Annual Empowerment Summits where we bring all amazing women from around the world together and celebrate our achievements.
An inspirational evening listening to our talented speakers. We attract and welcome high profile female entrepreneurs worldwide, hosting events and Private Fine Dining at prestigious venues.
Who should attend
If you are thinking of starting a business or you are already a business owner and would like to know how you can expand your brand and raise more awareness then this network is for you.
Benefits in Joining our GEWS Elite Network Club
Our members will benefit from:
Listening and learning from the experts in their field sharing their expertise.
More and more women in business are seeking to find the right balance between family and career and this is why health and wellbeing plays a vital role in business today. Learn how you can implement this into your business.
Learn from our coaches and mentors why it is important to have the correct mindset when building a global business and how you can achieve your career goals and have a sustainable business model.
Build your network – opportunities to connect, and network with over 1000 inspirational women in business throughout the UK and Globally.
This Network will leave you inspired and empowered and you will feel determined to succeed in business.
Advertise your brand
Members can bring roller banners, leaflets to help promote their brand. Members will also have the opportunity to Feature in our Women in Business publication launching in 2019.
Public Speaking – Opportunities to speak throughout the UK and Internationally at our Empowerment Summits.
Podcasts – Many opportunities to be interviewed on all our Digital Marketing Platforms to expand your reach.
Showcase your business at our summits to raise more awareness of your products/services to the mass market.
Discounted Sponsorship opportunities to help market your brand.
Attend our Exclusive VIP Parties and Luxury Events in the UK and Globally.
Meet Our Regional Host
Anita Francis
Founder/President, Global Empowerment Woman Summit (GEWS)
United Kingdom
Anita Marie Francis (BAHons) Marketing & HRM. Anita is currently the President and Founder of a Women's Empowering Network called Global Empowerment Woman Summit and Elite Network Club. She is a Serial Entrepreneur with over 15 years business experience in running several successful businesses from running a recruitment agency, model agency, health and wellbeing company, a publication company and property company and alongside running her membership clubs globally Anita embraces the digital lifestyle and has invested in online businesses. Anita believes in supporting the next generation of female leaders and has launched a project called Inspire Girls Rock with the aim to support and mentor young girls to dream big and become global leaders. Anita believes a true entrepreneur takes risks and lives outside their comfort zone. Anita has always been passionate about connecting women in business together, nothing gives her pleasure than seeing women go onto do great things in the world.
Meet our Club President Neelam Kaul
I am a Global Executive Coach and Trainer based in London. My bespoke "Stressed In The City" programme focuses on Leaders and Entrepreneurs.
The main four areas of my coaching and training is centred around Leadership Style,Team Management, Productivity and Wellbeing.
I am also a STEM (Science, Technology, Engineering and Mathematics) ambassador and encourage young girls and women into taking careers in the STEM industries.
I also help women in middle management to acquire the "edge" to reach more senior positions.
In 2018 I was a mentor for Foodbytes! By Rabobank (a pitching competition) where I met 20 disruptive start-ups and innovators in the Food and Agricultural sector.
This year, I was a mentor for Durham University and the Institute of Coding. I also was involved with University of Warwick's "Her Innovation Collective" programme.
I attend many industry events, round table and panel discussions.
I also run workshops at some of the leading private members clubs and co working
spaces in London.
Last year, I was featured in the bespoke Hedgerways Financial Recruitment newsletter in London and I am a regular contributor for Emirates HR in the UAE, Mother and Career, The Adult Bible, a leading luxury lifestyle PA magazine and was a guest speaker on a London Radio station.
My background is Investment Banking and Corporate Tax and I decided to take a career change after having my two sons. I love travelling, socialising and networking.
You can find more details of my recent projects, articles, content and further
information on my Linkedin profile and website below.
www.linkedin.com/in/neelam-kaul-62a55b28
www.stressedinthecity.com
Ticket Info
Non-members can attend once and visit any location throughout the UK and Internationally.
Members can attend any prestigious GEWS Elite Network Club locations.
Non-members – £37.00
Members – £20.00
Our EARLY BIRD OFFER is only £27.00 for a limited time.
HURRY BOOK your ticket TODAY! so we can guarantee you a space. We limit tickets to 25 people and once event is FULL you cannot just turn up on the day. You will be welcome to join us at our next network meetup.
If you have any dietary requirements, please contact admin | globalempowermentwomansummit ! com
If you are interested in joining our network club and have any questions in reference to our UK Summits and our summits we have planned internationally in 2020 and advertising in our publication Women in Business please email admin | globalempowermentwomansummit ! com
Global Empowerment Woman Summit quarterly network clubs will be launching clubs throughout 2020. This will be an opportunity to connect and network with other female entrepreneurs globally.
We are also looking to expand our global family and looking for female entrepreneurs who wish to raise their profile and host annually summits and networks in their chosen country. Do get in touch if interested.
SPEAKER ANNOUNCED SOON.
SEE OUR GEWS BIRMINGHAM UK LAUNCH 2018 HIGHLIGHTS – FULL GEWS MEMBERSHIP WEBSITE LAUNCHING SOON.
www.globalempowermentwomansummit.com