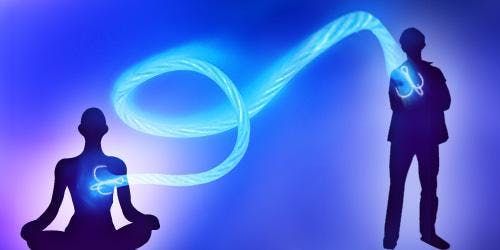 Cockpit Theater (Studio 3), Gateforth St, London, United Kingdom
Eventbrite
Spread the word
Cords are etheric attachments to your aura that bind you or connect you with a person, object or situation. They create a sense of stress and strain in your being. They may also create obsession and obligation. If you are feeling drained or obligated in a certain situation or relationship, you probably have cords attached to your aura. Emotional cords can be caused by divorces, separated couples, unable to recover from your break up. Cords always have negative emotions such as ego, fear, hurt, unforgiveness, anger.
One of the major blocks to forming and maintaining a successful relationship is the inability to let go of your feelings for an ex, or someone from your past. If this is the case then it's most likely that there is an emotional cord connecting you and them.
During this the first half of the class you'll be guided on an inner journey to uncover and remove these etheric attachments from your aura, to allow space for a new relationship to blossom and grow. We'll be looking into lessons which can be learnt from past mistakes.
During the second part of the class, you'll be defining what you really want from a relationship and opening up energetically to receiving this. We'll be using simple yet powerful exercises, incorporating life coaching, NLP, guided meditation, and self development techniques, to generate confidence, self love and other resources you may need. Exercises will involve working in pairs and working as a group
YOU WILL LEARN- What patterns you are repeating - The most common Myths regarding LOVE- What you really want from a relationship - How to become a vibrational match to your ideal partner/soul mate- Insight and tips for success
THIS WORKSHOP IS FOR- Men and women who are single - Those who want to enhance their existing relationship- You just can't get over an ex of someone from your past- You're seeking more LOVE and fulfilment
There will be a 20 minutes break
We'll meet downstairs in the theatre lobby at 14.00hs and I'll bring you up to the room.
Please bring a pen, note pad, and a bottle of water. 
Only 8 spaces available so book in advance to avoid dissapointment 
Tickets & prices:
£20 Super Early Bird
£25 Early Bird 
£30 Standard Tickets
Booking fees apply
The Facilitator:
Andrew Okaro is an Intuitive Soul Coach, Clinical Hypnotherapist DCH and Energy Healer, he is passionate and dedicated to helping others uncover their life purpose and achieve their true potential. His website is
www.andrewokaro.com
Any queries you can ring me on 07946444755
Testimonials: "An excellent session. I learned a lot about myself and it surprised me some of the things that surfaced. I will definitely be attending more sessions with Andrew." Antoinette
" I went to the energetic cord cutting meet up that Andrew held on Sunday and it was amazing. The group was lovely and I enjoyed the whole experience very much. I definitely felt a big difference afterwards, which was great as I'd been trying to facilitate this change by myself for ages without much success. I've been to another of Andrew's meet up's before and had a reading and each time has been so beneficial. I highly recommend. " – Adrian
"Andrew is a very talented psychic. He helped me release blocks of energy. He is a very nice person as well and is happy to share his insights. Thanks for this great workshop Andrew! " "The day was really beautiful and the workshop too. I enjoyed the meditations. Andrew was an empowered and fantastic facilitator. The time went quickly and I enjoyed the other like minded participants. Hopefully we will meet again on the journey to greater abundance."
"An excellent session. I learned a lot about myself and it surprised me some of the things that surfaced. I will definitely be attending more sessions with Andrew." Antoinette
" I had several personal one to one sessions with Andrew to resolve the inner blocks I had to marriage. That was last year around October. It definitely set me on a path in which my subconscious led me down the relevant path to my goal. I carried on Andrew's work by way of my own meditations and in February this year I met the man who was to become my husband....within a month we were married in a religious ceremony and legally in June! I feel incredibly blessed and am very happy. I am very grateful to Andrew and his work which assisted me in tapping into my subconscious." Rebecca
"Since I attended your workshop, I have been stopped by a gentleman on the street because he thought I was stunning and wanted to know more about me. I have for the first time told my ex that I finished my journey with him. It was nice being on the giving end. He started initiating contact a day after the workshop. On Thursday I had a date with a young man who previously I wouldn't have thought is out of my league. He is smitten still and looking forward to the second date. Thanks again." Pamela.
More testimonials here:
https://www.meetup.com/create-abundance/about/comments/?op=all
/>