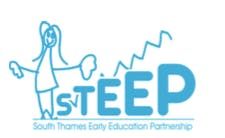 Chelwood Nursery School, Chelwood Walk, London, United Kingdom
Eventbrite
Spread the word
Engaging Families in their Children's Learning in the EYFS  
Who is this event for?
Practitioners, NQTs,  those new to the EYFS,  and those interested in getting a taster session on schemas and learning styles.
This session is particularly aimed at those who are new to the Early Years Foundation Stage – schools, nursery schools, private voluntary and independent settings.  
What is the course about?
This 2 hour walk and talk session, designed to support practitioners in developing effective partnerships with families.
It will strategies to support families in different contexts; working families; those harder reach; single or young parents    
Facilitator: 
Amanda Furtado – Deputy Headteacher, Chelwood Nursery School  
Terms and Conditions -     By purchasing this ticket online I agree to the following terms and conditions:
Payment:  Payments are made on-line in advance of the event taking place. You may attend the event without having booked and paid for the place you may be turned away from the event.
It may be possible to make an online payment on arrival at the event to gain entry where places are available,  but this facility cannot be guaranteed.
Timekeeping:  Prompt time keeping is essential in ensuring a professional learning environment.  Late-comers may be refused admission to the course/training event where entry may be detrimental to the learning of others.
Cancellation:If you are no longer able to attend the course, please notify us by email
STEEPcontact | gmail ! com
, giving  7 days notice. If you fail to do this your full course fee will be retained.
In the event the organiser has to cancel or reschedule the event, your booking will be transferred to the next available date or a full refund provided.
Refund policy: Refunds will only be given if the attendee gives 7 days notice of non-attendance. After this time no refunds will be given.