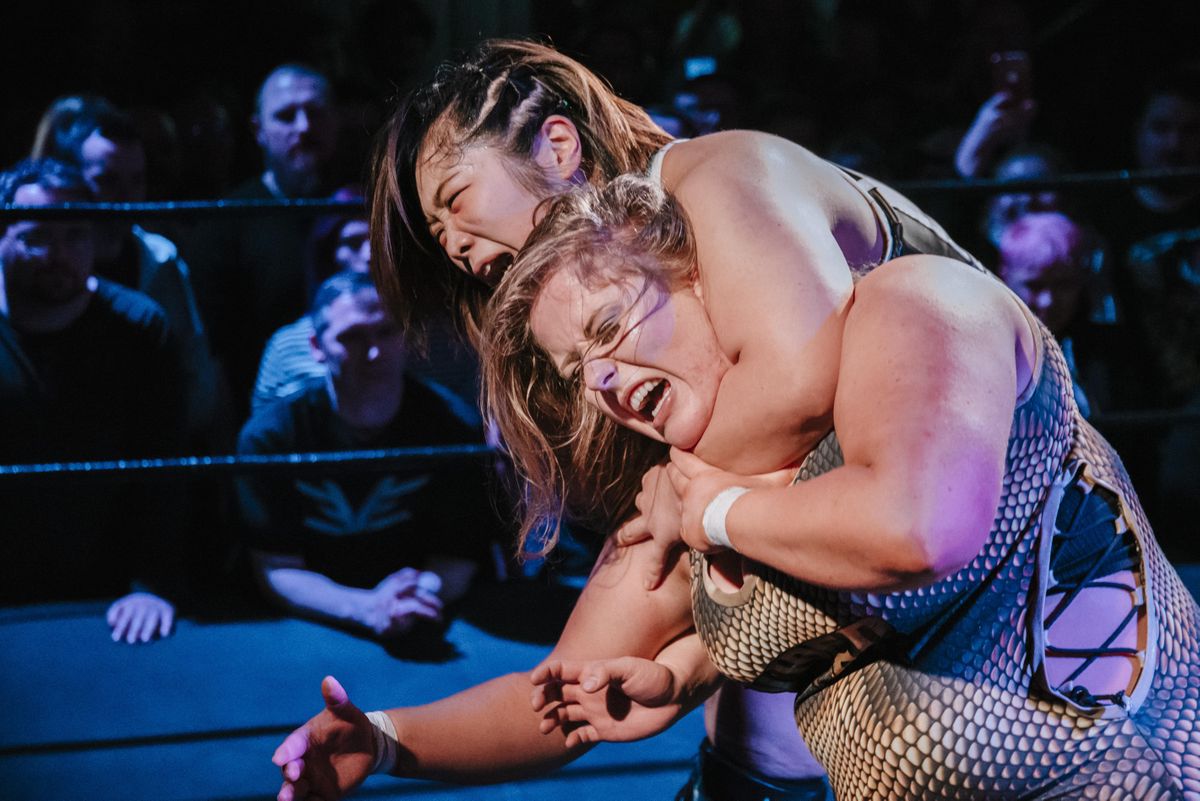 Resistance Gallery, 265 Poyser Street, London, United Kingdom
Pro-Wrestling:EVE
Spread the word
"Fight your way to the front of the crowd to see the famous feminist wrestlers from Pro-Wrestling:EVE" - Time Out Magazine
EVE's Riot Grrrls of Wrestling are back at Resistance Gallery in Bethnal Green and they're ready to smash gender stereotypes and show everyone what it really looks like to Fight Like A Girl!
"The EVE experience is like watching a high-drag pantomime with added punching"  Red Bull Magazine, Red Bulletin
"I brought my sisters and a few friends and we had such an amazing time. Everyone should get to know EVE!"  Netflix GLOW Star & Musician Kate Nash
Join us at the first event after our biggest show of the year, Wrestle Queendom 2 at "Dawn of a New Era" on Saturday 13h of July!
Witness the fall out from Wrestle Queendom 2 live at this immersive, theatrical, comedic, live action stunt show experience that is EVE; a punk-rock, women's wrestling night out in London's East End!  
Catch the event critics have been raving about:
"Femininity and force, flesh and fury not 'on display', but in action"   Women's Health
"Their sexism-free, homophobia-free, seriously f*cking empowering shows are a hit"  Refinery29
"EVE is hitting Europe like a Piledriver"  New York Post
"EVE is uplifting, empowering and promotes positivity for women"  The Independent
Doors are at 7.30pm, the event starts at 8.00pm and is due to finish by 11pm.
As with all standing room only EVE events, this is for audiences aged 18+ only.  EVE events often contain strobe lighting.
***Due to the nature of our events, the close quarters and the sometimes explosive interactions with the crowd, pro wrestling EVE regret to state that our shows are not suitable for pregnant women or those of a nervous disposition.
We will always endeavor to accommodate accessibility needs where possible, but there are many areas we have no control over that could put the mentioned parties at risk***  
All ticket sales are final. You can re-sell your tickets if you cannot attend (any ticket resales are the full responsibility of the ticket holder), refunds & exchanges are offered exclusively to the event being moved or cancelled.  All talent advertised and announced cards are subject to change. Your statutory rights are not affected.