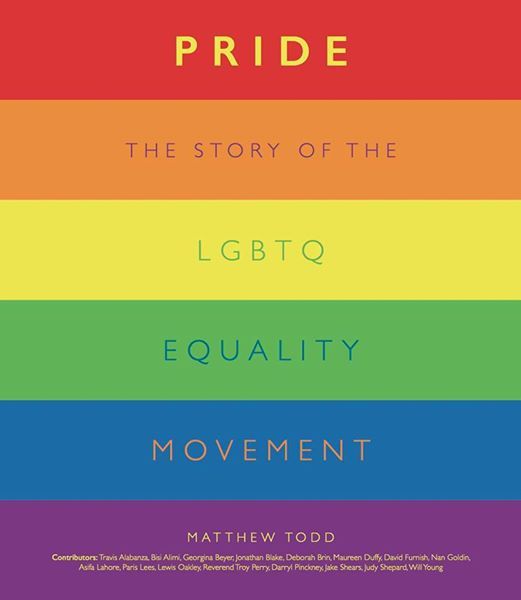 Gay's The Word, 66 Marchmont Street, WC1N 1AB London, United Kingdom, London, United Kingdom
Gay's The Word
Spread the word
Pride - The Story of the LGBTQ Equality Movement
Matthew Todd in conversation with Uli Lenart of Gay's the Word
In June 1969, police raided New York gay bar the Stonewall Inn. Pride charts the events of that night, the days and nights of rioting that followed, the ensuing organization of local members of the community - and the 50 years since in which activists and ordinary people have dedicated their lives to reversing the global position.
Pride documents the milestones in the fight for equality, from the victories of early activists, to the gradual acceptance of the LGBTQ+ community in politics, sport and the media and the passing of legislation barring discrimination.
Covering the key figures and notable moments, events and breakthroughs of the movement through the reproduction of rare images and documents, and featuring personal testimony essays from notable figures, Pride is a unique and comprehensive account of the ongoing challenges facing the LGBTQ community, and a celebration of the equal rights that have been won for many as a result of the sacrifices and passion of this mass movement.
Includes personal testimonies from: Travis Alabanza, Bisi Alimi, Georgina Beyer, Jonathan Blake, Deborah Brin, Maureen Duffy, David Furnish, Nan Goldin, Asifa Lahore, Paris Lees, Lewis Oakley, Reverend Troy Perry, Darryl Pinckney, Jake Shears, Judy Shepard and Will Young.
A Free event at Gay's the Word bookshop. Doors 7pm. Pleasee RSVP on this facebook page so we have a sense of numbers. Thanks.
Matthew Todd was editor of Attitude magazine from 2008 - 2016.
His first book, Straight Jacket, has been described by Sir Elton John, as 'an essential read for every gay person on the planet' and 'utterly brilliant' by Owen Jones and by readers as 'a game changer' and 'life saver'. It was shortlisted for the Polari Prize 2017 and was voted winner of the Boyz LGBT Book of the Year Award.
His play, Blowing Whistles, has been performed in London, Manchester, Sydney, Melbourne and in the United States. It was described as 'the brightest gay play in ages' by Whatsonstage.com and 'the best gay play since Beautiful Thing' by the West End Wingers. It received 4 star reviews from The Evening Standard, The Spectator, The Sunday Express, Time Out and Whatsonstage.com.
He was named Editor of the Year (Men's Magazines) 2011 and 2015 (Men's Brand) by the British Society of Magazine Editors and Stonewall Journalist of the Year 2011.