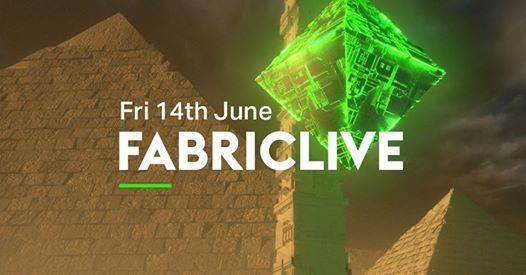 fabriclondon, 77a Charterhouse Street, EC1M 6HJ London, United Kingdom, London, United Kingdom
fabriclondon
Spread the word
FABRICLIVE
Room One: Dispatch Recordings
DJ GROOVERIDER (Blue Note Set)
Nymfo ('Pictures On Silence' LP Launch)
SOURCE DIRECT (Old School 'all vinyl' Set)
Klute - Official B2B Ant TC1
Black Barrel Music B2B Dub Head
Philth B2B Kyrist
Rizzle B2B Gerra & Stone
Onset B2B Blesid
Hosted By:
Visionobi
Codebreaker
Subliminal
Room Two: Sofa Sound Bristol
DLR / Sofa Sound Bristol
Ulterior Motive
Kid Drama
Hybris
War
Ill Truth
Oto
Hosted By:
MC GQ
MC Gusto
MC Fokus
Room Three: Tech Itch Recordings
Voyage
Facs
Terror Cell
Layer 3
Paragon
DJ E
Indidjinous
Hosted By:
Blackeyemc
FABRICLIVE welcomes three killer labels pushing drum & bass into the future as Dispatch, Sofa Sound Bristol and Tech Itch take on hosting. In Room One, Grooverider makes an appearance in honour of Ant TC1's imprint. One of the genre's certified top dogs, he lands to play a special retrospective set in honour of his legendary Blue Note nights. Joining him is Nymfo, who prepares for a performance in celebration of his forthcoming 'Pictures On Silence' LP. Scene veterans Hidden Agenda and Source Direct dust off their vinyl collections to pay tribute to the old school, joined by Commercial Suicide's genre-bending figurehead, Klute. There's also a series of head-to-heads featuring a cast of familiar Dispatch faces, with Black Barrel and Dub Head, Rizzle and Gerra & Stone, and Onset and Blesid all prepping to share the booth. Visionobi, Codebreaker and Subliminal drop by to host the night.
Sofa Sound Bristol charge up Room Two's bass-heavy system. Label founder DLR runs the proceedings, with a host of close affiliates lined alongside him. Ulterior Motive bring their high-precision cutting sound, flanked by one of the genre's boundary-pushing artists, Kid Drama. Having been one of the most vital voices in drum & bass as part of Instra:mental and under his own Jon Convex alias, these days Damon Kirkham is putting out futurist D&B as Kid Drama for labels like Metalheadz and Apollo. Also joining is Hybris, the Prague producer and driving force behind the Pseudoscience Recordings imprint. War, Ill Truth and Oto round things off, with GQ, Gusto and Fokus stepping up on mic duties.
Witness a rare sighting of the elusive Voyage when he materialises into our dimension to transmit frequencies from the spectrum unknown. Get subjected to space age dn'b warfare from the interplanetary visitor and original techstep explorer known as Facs.
Descending on London hard as nails from Wales, expect a preview of the debut LP from our shock troops in the west Terror Cell and Layer 3. Resident soldiers DJ E, Paragon and Indidjinous fill out the night with their unique species of darkside breaks and bass alongside the hypnotic transmissions of Blackeye MC.
Advance tickets are now available via RA, including limited early birds and entry before midnight tickets: fabricldn.co/elzhe7
--
fabric is an over 19s venue
Please remember to bring ID with you. No ID, no Entry.
fabric operates a zero tolerance policy to drugs. Anyone found with illegal drugs will be banned from the venue and reported to the police.