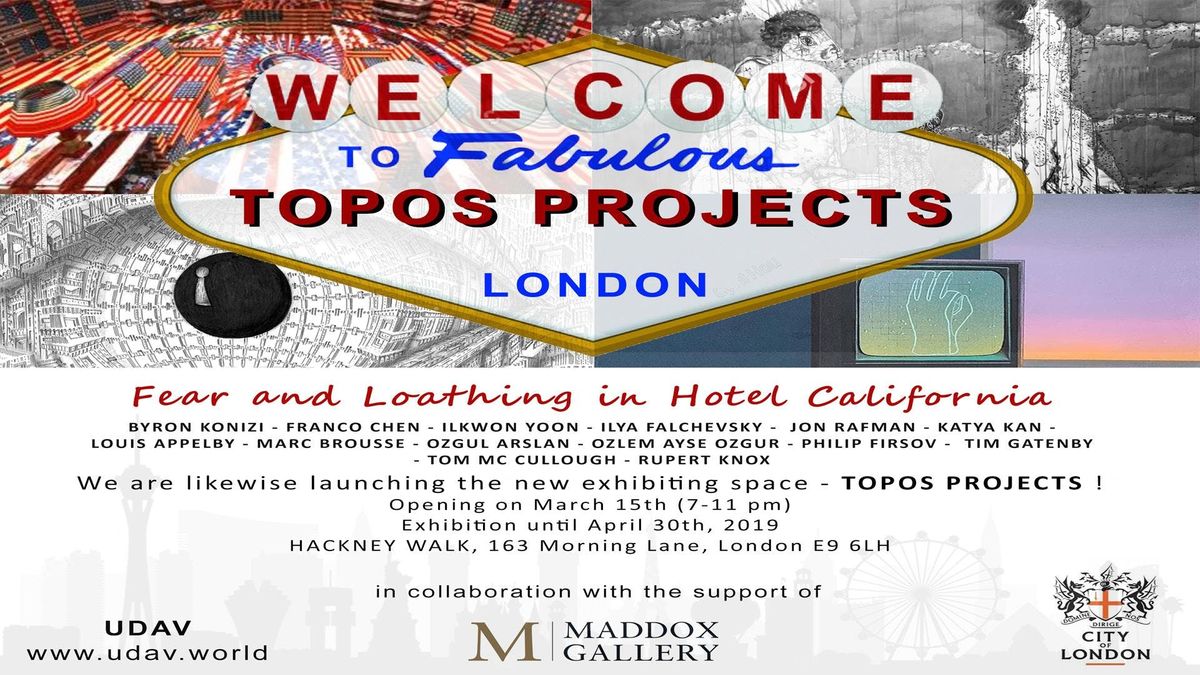 Hackney Walk, 163 Morning Lane, London, , London, United Kingdom
Eventbrite
Spread the word
"Fear and Loathing in Los Angeles" will combine the artists' illusions, perceptions and expectations of this utopian topography, associated with California in a new exhibiting venue in Hackney. This exhibiting space is hosted and supported by certain MPs, Maddox Gallery as well as the charitable organisation UDAV, dedicated to helping people with neurological trauma:
http://www.udav.world
/, established by the "Casualty" actor, Byron Konizi. As a result of the Hollywood production and the day when the US was a world superpower, the world has formed a glorified notion of what California is. We will explore what it is exactly that draws us to the mythical topography of California and the notion of a "perfect topos" in general. We will take Terry Gilliam's surrealist film "Fear and Loathing in Las Vegas" in its portrayal of the protagonist's psychedelic perception of Las Vegas as a point of departure. In our case, we will transfer each artist's associations with Los Angeles onto the public arena. This exhibition will equally take inspiration in the philosophy of Jeff Malpas: a contemporary philosopher, who has addressed the nature and philosophical significance of the concept of a "topos". The multi-media artists, whom I would like to involve in this exhibition include Franco Chen, Jon Rafman, Katya Kan, Louis Appleby, Marc Brousse, Ozgul Arslan, Ozlem Aysu, Philip Firsov, Ru Knox, Tim Gatenby, Tom McCullough and Yoon Il Kwon. Performances by the model, Ella McKenzie, the singer, Ralpha, the renowned Soho-based Soho-based writer/singer/performer, La Celine, as well as the artists, Byron Konizi, Katya Kan, Rupert Knox on the night as well as refreshments.