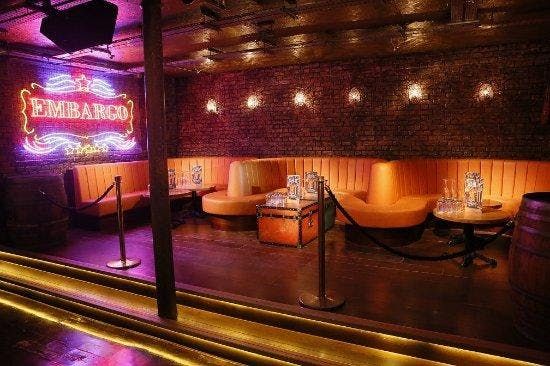 Embargo Republica, 533 King's Road, London, United Kingdom
Eventbrite
Spread the word
FIESTA HAVANA @ EMBARGO REPUBLICA, WELCOME DRINK, ROOF TERRACE
Join us for a fun social event from 8pm onwards. (This event is hosted by Michelle / Helen) When you arrive tell the staff you are here for the "Meetup Event", you will be asked for your name which has to be on the guest list..
We will mix and mingle between 8pm and 10.45pm, and there is 1 x welcome drink for the 1st 40 guests who arrive between 8pm and 9pm. The event is hosted and whether you are coming on your own or with friends, the hosts will be there from the beginning to help breaking the ice and introducing guests to each other.
HAPPY HOUR & 2-4-1 COCKTAIL DEAL FOR MEETUP MEMBERS UNTIL 11PM!! This event is fully hosted, and the organizers will be on site to introduce and greet newcomers and well as regulars to each other. This event is run in conjunction with other meetup groups and there organizers along with there own members so the number of rsvp are always higher then what you see on the list, we have been running & hosting events for 7yrs now.
Embargo Republica brings a slice of Cuban cool to King's Road. Located at a prized location on Chelsea's King's Road, you'll enter through a cigar shop to discover a smooth and stylish space featuring exposed brickwork, vintage furnishings and a spacious rooftop terrace.
The venue offers an exhilarating mish-mash of music, with live bands and DJs gracing the stage every week. These guys also consider luscious cocktails as something of a speciality, with no less than 20 different bottles of rum vying for position on the shelves. The choice of premium champers on offer confirms that we are definitely in Chelsea, and Embargo Republica's blend of rhythm, colour, spirit and style ensures that Cuban values are never far from the surface.
We continue with the series of invitations to exclusive venues. You are invited to join us for this social event before the Clubbing night starts with the possibility of staying at no extra cost for the Clubbing night.
This is mainly a social event, and you should expect a crowd of London based professionals.
Dress code is either glam, or smart. No T-Shirts and no Trainers are allowed. A valid proof of ID in original may be required upon arrival, either European ID, Passport or Driving Licence
Last entry: 10:45pm