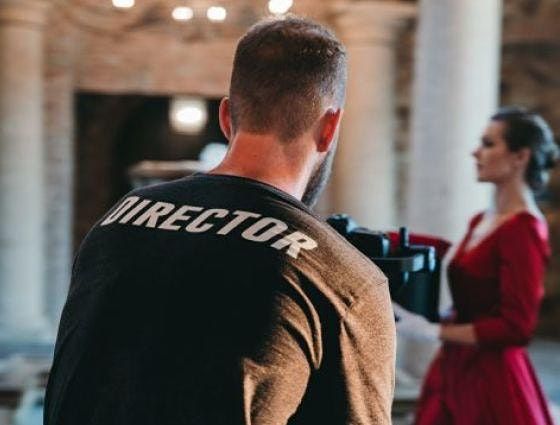 Raindance Film Training Centre, 10a Craven Street, London, United Kingdom
Raindance Film Festival
Spread the word
The director is ultimately responsible for every image and sound that appears on the screen
About this EventAbout the Directors Foundation Certificate
The director is ultimately responsible for every image and sound that appears on the screen – and thus for a film's artistic success or failure. This five-week film directing course provides a detailed overview of the skills, knowledge and professional requirements for those wishing to direct for the screen. The information covered in the Director's Foundation Certificate includes how a director works with and interprets the screenplay, working with actors in rehearsal and on-set, and the technical aspects of directing. It will also cover what a director does on the day of the shoot, and then working with the editor.
What will it cover?Week 1: The Director and the Script
The script is the blueprint for a movie; it is the director's job is to interpret the screenplay and then bring it to life. Students will first discover how a good director translates the written word into the visual elements on the screen.
Analysing the scriptDiscovering the true storyIdentifying key momentsFinding additional visual elements
Week 2: The Grammar of Directing
Directors use a wide variety of shots and lenses to compose their scenes and create a vocabulary of cinematic techniques. It is especially important for directors to learn the do's and do not's of the grammar of directing.
Camera placement and techniqueFraming and compositionStoryboarding and previsualization as directing tools
Week 3: The Director and the Rehearsal
One of a director's biggest challenges is to effectively communicate his/her vision with the cast. Therefore, it is crucial for directors to learn how to run a rehearsal in addition to creating mood and tension on-screen by inspiring the actors. In addition, this class involves working with and directing real actors.
Working with actorsCreating characters for the screenTools for communicating with actorsRehearsal process and staging
Week 4: Directing the Shoot
It is the director's job to oversee the production on set and on location. Using professional camera, lighting and sound equipment this class will involve shooting with a plan to having enough material to then produce and edit for the final class. • Shot lists and scheduling • The director's focus on set • Preparing to shoot • Good communication while under pressure • Making decisions and staying flexible • Shooting for the edit
Week 5: Directing the Edit
In the edit, the audiovisual material collected during the shoot is organised to tell the story in the best way. It is especially important for the director to thoroughly understand the editing process.
Time scale and project management explainedViewing rushes and making decisionsWorking with sound and musicView an edit from last week's rushes
What will you achieve?
On completion of the Directors Foundation Certificate, students will have acquired the skills, knowledge and confidence to then undertake their first directing projects.
How will you be taught?
A mix of lecture-style, demonstration and also practical instruction with tutor guidance. Weeks three and four will also involve working with actors. In addition, there will also be some further reading and additional activities suggested.
Who should attend?
The Directors Foundation Certificate is suitable for beginner directors, as well as those interested in finding out more about directing for the screen. It is also suitable for those seeking to refresh their existing knowledge.
About the tutor
Simon Hunter has directed over fifty tv commercials and three feature films. His directing debut was the horror movie LIGHTHOUSE in the year 2000 and he went on to direct the visual effects-laden sci-fi movie THE MUTANT CHRONICLES in 2008. Simon's first feature, Lighthouse, was released theatrically in 2002. Simon subsequently became a much sort after commercials director before returning to features with Edward R Pressman's Mutant Chronicles in the Summer of 2006. Simon flew to Qatar in 2014 to direct 20 episodes of a Scifi adventure series set in the desert. The filming takes place in Qatar, Jordan and India. In 2017 Simon directed his passion project, which tells the tale of an older lady who climbs a mountain in Scotland at the age of eighty-three. The film has had an enthusiastic and successful theatrical release in the UK and has sold to multiple territories. Simon lives in the German capital, Berlin. Since 1999 he has regularly lectured for RAINDANCE and other organisations.
by Simon
What they're saying
Simon's enthusiastic personality and his pearls of wisdom such as "you don't see with your eyes… they're just there to filter information to the brain". Simon has an engaging, highly enthusiastic personality and I was quickly drawn in to his vast skillful knowledge of film production. Steve Grimes
The structure was excellent – starting with the basics and then moving through the technical side, before watching a movie being made. It was a great beginners' film directing course, and made me feel confident that I could make a film. Simon was an engaging teacher, incredibly passionate and inspiring. He was also down to earth and approachable. He made filmmaking accessible and far less intimidating than before. Shahyar Niroomand
Additional Resources
The Directors Guild of Great Britain
Did you know?
Raindance members save up to 30% on this course? You can join online and start saving immediately
This course is FREE for our and students
The Raindance Guarantee: If this course fails to meet your expectations, let us know at the break and we will make a full, 100% no-questions-asked refund
iCause.com promotes public events for free and helps event organizers connect with nonprofits to attract more participants like you.
Additionally, the iCause Global Foundation enables good people to fund great causes around the world. Together, our impacts are limitless!