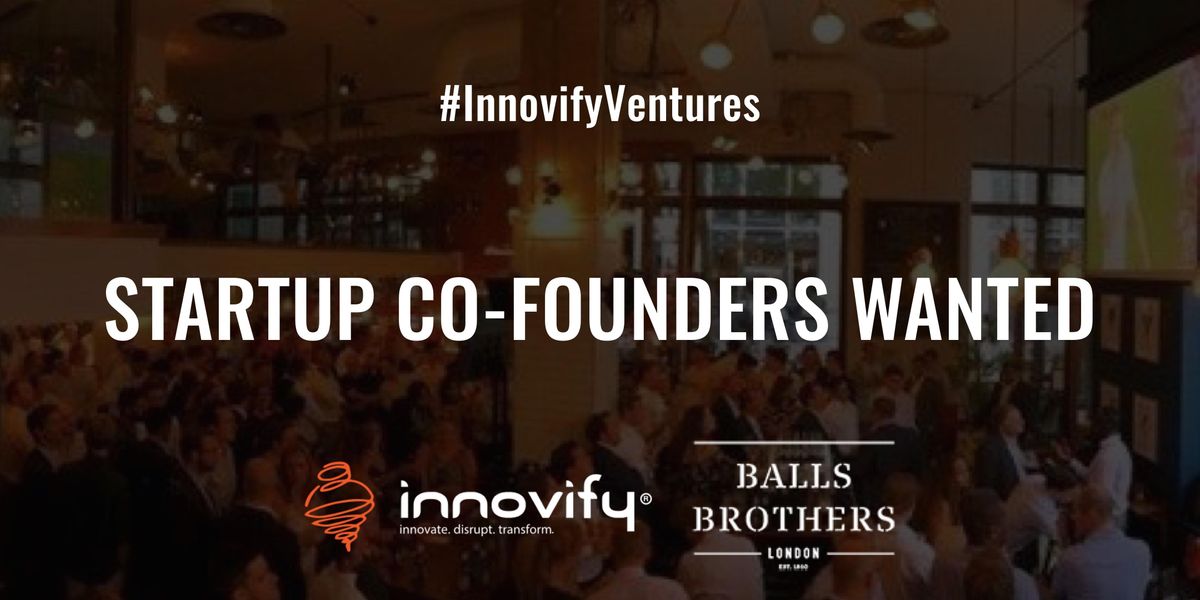 Balls Brothers Austin Friars, 10-11 Austin Friars, London, United Kingdom
Innovify
Spread the word
Do you want to find a co-founder for your startup or join an existing startup team? If YES, this meetup is for you. 
London Co-founders Club is a meetup group managed by Innovify Ventures. We are organising monthly networking events for startup founders looking for a co-founder.   
LOCATION - Balls Brothers Austin Friars 
We are meeting up at Balls Brothers Austin Friars, that is 4 minutes away from Liverpool Station. 
Balls Brothers Austin Friars is our event partner and they are offering Happy Hour prices from 5 pm to 7 pm: £4 Amstel tap beer and £5 on any classic cocktails.   
AGENDA
17:00 - 18:30 Networking & Happy Hour Drinks 
18:30 - 18:35 Innovify Intro 
18:35 - 19:00 One Minute Shoutout (Founders looking for co-founders and anyone offering their skills)
19:00 - 20:00 More Networking & Drinks   
ABOUT INNOVIFY VENTURES
Innovify Ventures represents a subsidiary of Innovify - one of London's most innovative Digital Product Development Companies. Over the past three years, Innovify has provided CTO and product development services to startups such as Teaglo, Gener8, Landbay, Kwanji, BrickOwner, Instantt and more, enabling them to go from early stage MVPs to full-blown, operational companies.
Innovify Ventures is an early stage digital start-up studio with an enviable track record of launching many high growth start-ups. We help ambitious founders validate their ideas and develop MVPs to find product-market fit. Innovify Ventures brings wide and deep tech expertise to build highly scalable infrastructures and automated workflows with minimal overheads. We further coach the founders to establish profitable business models and accelerate them to series A investment in a fast and cost-effective manner. We are continuously nurturing our network of partners to save time for start-up founders by facilitating the right support to accelerate growth.
Want to pitch to us? We are organising monthly pitching days: 3 startups x 3 investors. Check our Meetup.com group - Founders Club: Grow your start-up
 For more information, contact Elena at
elena | innovify ! com