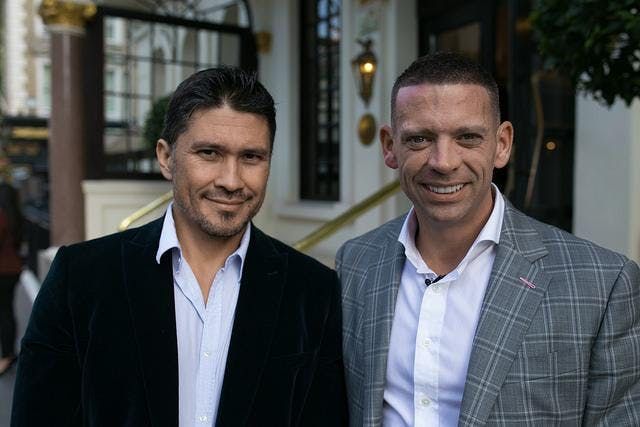 Holiday Inn, Coram St,, London, United Kingdom
Assets For Life
Spread the word
International Business Leader and Multi- Million Pound Property Developer Liam Ryan Reveals The Secret Formula To Astounding Fast Track Wealth Creation Using Other People's Money...
More details here:
www.ThePropertyAndBusinessSummit.co.uk
What is The Property and Business Summit?
The Property and Business Summit is a two-day world-class training course specifically designed to show you how set up your own multi-million pound property portfolio and business from scratch using none of your own money! 
Empowerment Through Property
The Property and Business Summit is like nothing you have ever experienced. It is a journey that will take you from your today to a lifetime of tomorrows where you will be stronger, more confident and wealthier than ever before.
Liam Ryan will personally share with you his unique property freedom formula– A guaranteed seven-step system to success. This will show you how to start, scale and systemise your own world beating business.
With his revolutionary method of applied expert education you will learn how to accelerate your potential to become financially free and to go on to enjoy wealth beyond your wildest dreams!
When starting out on this incredible enterprise we want you to walk first, then run, then fly! The great thing about this proven system is that there is no overwhelm. You can start off by implementing it part time and with no experience. 
Believe this: There will come a time in the not too distant future when you will be your own boss taking complete control of your life and your business. And the most incredible thing about this whole methodology? You can do it using other people's money!
More details here:
www.ThePropertyAndBusinessSummit.co.uk
The Property and Business Summit is for you If... 
  You are looking for a better life, not just for you but for the people you love. The Property and Business Summit is for you if you are sick of the grind and if you are tired of working every available hour and only just making ends meet. If this sounds like where you are at right now then The Property and Business Summit is for you because it will provide you with multiple opportunities to build wealth with dynamism, enthusiasm commitment. After you have attended The Summit every day will be exciting, every day will be fulfilled.
  You are thinking of getting into property and business but don't know how to start. It might well be that you can see the business opportunities that property investment represents but you currently lack the confidence to commit to your dreams.
  You are an existing property investor or business owner looking to scale. You might have already dipped your toe in the water with single-lets or multi-lets but are only getting limited results by doing it the traditional way. The Property and Business Summit is for you if have hit a wall and are lost for ideas to take you forward. The Property and Business Summit will inspire, motivate and get you to scale new heights in new ways.
 You want to live a life beyond your wildest dreams, earn big money and enjoy the all benefits of fantastic wealth while providing people with high quality apartments, flats and homes of their own.
 You want to face down life's challenges that tell you can't achieve great things. Well, with this system you can. Liam is dyslexic and it hasn't stopped him achieving amazing success. It doesn't matter who you are, where you're from or what you are currently doing now The Property and Business Summit represents an opportunity for real change, real growth and real wealth.
Liam Ryan
Liam has been a businessman right from the word go. From being a hustler in the school playground he went on to become an international entrepreneur heading up a number of multi-million pound companies. If you want to spend time in his company nowadays a one to one mentor session will cost you £20,000. 
Alongside his business partner Jay Munoz he co-founded Assets For Life three years ago. And as a testament to his property freedom formula Assets For Life has enjoyed rapid growth. Back in 2014 their portfolio had a nil valuation. Cut to today and the portfolio value has just reached a staggering £12.6 million using mostly other peoples money! It is the secret to this rapid growth that Liam wants to share so that you too can enjoy phenomenal success.
More details here:
www.ThePropertyAndBusinessSummit.co.uk
DISCOVER WINNING PROPERTY STRATEGIES FROM THE BEST
WHAT#S IN IT FOR YOU?
Networking with other professional investors 
Potentially your next JV partner
Become a more confident property investor, even if you are brand new
Spend a day building your contacts and discovering property strategies to fast track your business
ADDED BONUSES SESSIONS:
How to start doing land developments and commercial conversions and make big lumps of cash (£200K-£300K per deal)
See how to effectively build your presence online in less than a few hours (Liam raised £700K with just one Facebook post - you can too)
How to create high cash-flowing multi-lets that will make you £1000 - £1500K per month per property using none of your own money down!
Secrets to developing your 60 second elevator pitch with a confident delivery that gets people chasing you for business almost every time!
TICKET OPTIONS:
General FREE admission - entry to the event, above sessions and networking opportunities. Limited tickets are available so...
TAKE ACTION AND REGISTER NOW!
More details here:
www.ThePropertyAndBusinessSummit.co.uk