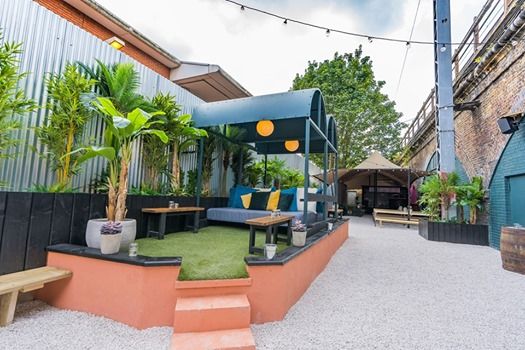 Night Tales, 14 Bohemia Place, E8 1DU London, United Kingdom, London, United Kingdom
Night Tales
Spread the word
Following the success of our launch weekend, East London's largest terrace. will be open every Thursday, Friday and Saturday throughout the summer, with FREE ENTRY all day and night*.
THURSDAY - FREE ENTRY
18:00 - 00:00
TERRACE ONLY
FRIDAY - FREE ENTRY
18:00 - 03:00
CLUB OPENS FROM 22:00
SATURDAY - FREE ENTRY
15:00 - 03:00
CLUB OPENS FROM 22:00
As ever we will have the finest selection of street food! Favourites Mama's Jerk will be serving up Caribbean treats, while Nanny Bills will be offering buttermilk fried chicken and double beef patties, alongside signature New York pizzas from Sons of Slice.
Besides the entertainment, a new garden spritz bar will be launching for this year, offering sharing cocktails in punch bowls, alongside individual drinks. Elsewhere, as the name suggests, the frozen bar will offer cocktail classics with a chilly twist, including frozen Negronis and frozen mezcal margaritas.
CLUB EVENTS:
Club tickets are available from RA & at the box office.
MAY 10th
DJs: Catz N Dogz + Naomi
Tickets: bit.ly/CatzNDogz
MAY 11th
DJs: Aeroplane + Alex Metric
Tickets: bit.ly/AMetricNT
MAY 17th
DJs: Retrospect of House DJ's
Tickets: TBA
MAY 18th
DJs: Cromby + Sally C
Tickets: bit.ly/CrombyNT
MAY 24th
DJs: Krywald + Farrer
Tickets: bit.ly/KF-NT
MAY 25th
DJs: Nick Höppner B2B Martyn + kilig
Tickets: bit.ly/MartynNT
MAY 31st
DJs: TBA
JUNE 1st
DJs: TBA
---------------------------------------------------------
*limited capacity; please arrive early.