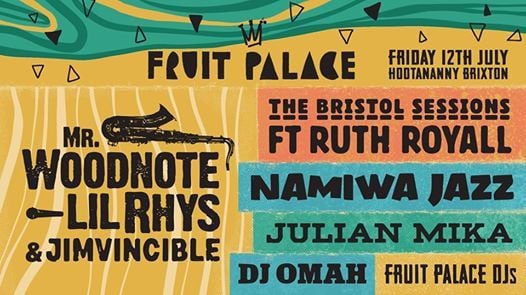 Hootananny Brixton, 95 Effra Road, SW2 1DF London, United Kingdom, London, United Kingdom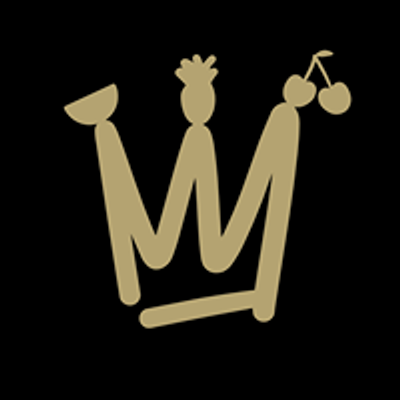 Fruit Palace
Spread the word
On Friday 12th July all paths lead to Fruit Palace...
A place of community featuring the finest talent.
-
Mr Woodnote, Lil Rhys & Jimvincible
Creating every track spontaneously by mixing hip hop and funk flavours with jazz and dance harmonies. A killer combination who've toured the globe racking up 10s of Millions of YouTube views featuring loop station, beat box & sax maverick Mr Woodnote, the formidable MC Lil Rhys & MPC/bass don Jimvincible.
Ruth Royall & The Bristol Sessions
Founded by vocalist Ruth Royall comprising some of the finest musicians of the Bristol scene. We've hosted Ruth in various guises and she smashes it each and every time, Mo Pleasure of Earth Wind and Fire fame describes her as "one of the most versatile singers I've worked with".
Namiwa Jazz Music
Combining aspects of reggae, funk, R&B and hip hop Namiwa's self-coined Afrotwang has been rightly causing a stir and she and the band have been rewarded by increasingly high-profile gigs and a first foray onto the continent. She's got a captivating stage presence and is backed by an excellent band. These guys are next level, make sure to catch them.
Julian Mika
New project by members of Grand Wa Zoo. Hard hitting beats, courtesy of Jamurai, combine with refreshing lyrics and catchy melodies. Raised in North West London, Julian Mika throws a bright light on the dark streets of London, bringing a new shine to the thriving UK scene.
Omah
Sounddhism resident Omah's DJ sets have earnt support from the likes of Loefah and Jamie **, and – with a knack for blending beats to fit the crowd – you can expect to hear Omah play everything from hip hop to house to funk to afrobeat and all kinds of bass music, as long as it's got a groove.
Fruit Palace DJs
Dance floor roots, soul, funky house and everything in between.
-
"Fruit Palace is a dope, colourful explosion of a night with only good vibes and lush people." - Dizraeli
"Wherever it takes place, you know Fruit Palace will be full of heart, soul and top musical selection!" - Babilondon
"Fruit Palace run some of the best nights." – Dojo
-
Free entry before 10pm, £5 after.
18+