Stephen Street Kitchen, 21 Stephen Street, London, United Kingdom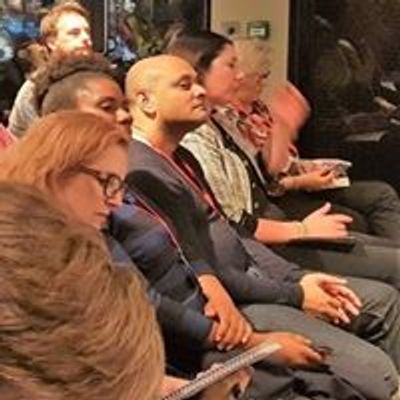 Generation CFO Network
Spread the word
THIS EVENT IS NOW ONLINE - PLEASE SUBSCRIBE TO GENERATIONCFO.COM FOR MORE INFORMATION
About this Event
It is time to add the Digital Age to the Finance Function!
The CFO and their management team are at a digital crossroads.  Maintaining the status quo is no longer an option yet most finance teams do not know where to start or which data journey to go on.  
More clarity, greater agility and deeper enablement through new learning and new partnerships are needed, so Generation CFO has created a place for you to meet, grow and thrive in a changing world.
Our engaged community of like-minded accounting and finance leaders are shaping their futures with new purpose, new capability and new direction which is only made possible by the boom in data and the digital world.
Join our community and find your route to a bolder, better digital finance function!
What to expect
We like to create a buzz! 
We encourage a diverse group of forward thinking people and partners, who wish to explore data and digital opportunities in their own Finance and Accounting teams. 
This is a non-technical forum for you to learn, network, partner.  There is no sales pitch, just like minded peers and agnostic leads who know how to get stuff done in the real world, and enjoy themselves while doing it. 
Who is Generation CFO Debate for?
We are a finance and accounting community and welcome all finance professionals; CFO, Financial Controllers, Senior finance managers, shared service leads and their teams. 
We believe greater agility comes from team diversity and a broad skills mix, so we encourage all forward thinking finance talent from all industries, all backgrounds and at all career levels. 
Yes, that young grad may well be the key to better data visualisation AND improving your social media presence! 
Who you'll meet
Generation CFO founder Christopher Argent will welcome you to the community and chair an informal but informative panel debate on "real world" challenges and solutions facing finance in the digital age. 
Topics include digital skills, growth mindset, innovation process, agility, change strategy, culture, tools, solutions and much more... 
Each panel include three subject experts in a highly relevant theme, inspiring people who have worked with CFOs and Finance to deliver the change and transformation needed in our community.  
Past panelist have included leaders from Starbucks, Deliveroo, Vodafone, and grow stage CFOs, plus innovation gurus and research professionals.
We thrive in communities! 
Our London community is a great mix of people from large enterprise to start up, from CFOs to early career digital natives, and we all benefits from an open exchange of ideas and points of view. 
The evening is an opportunity for you to ask questions to the panel and the assembled community; to share your own thoughts and find your place in the wider community.
A good mix of what you need...
18:30 - 19:00: Welcome drinks!
19:00 - 19:15: Welcome from Christopher Argent followed by an "expert opener" on the evening's theme
19:15 - 20:00: Introduction to our expert panel, followed by an interactive discussion & audience Q&A
20:00 - 21:30: Drinks, canapes and Generation CFO community meet up.
Plan your trip now!
Most of our community attends CFO Debate on a quarterly basis and plan their diaries to be in London on that day.  See dates and headline themes below for you to do this same.  
• 13th Feb - Mindset• 12th Mar - Talent• 21st May - Automation• 18th Jun - Change• 16th Jul - Analytics• 17th Sep• 8th Oct• 19th Nov
Book your learning network night out now!
For a full calendar of Generation CFO events, please got to  https://www.eventbrite.co.uk/o/generation-cfo-17621364104  
/>
For more information, please go to  https://generationcfo.com/contact/
/>
Please note this is a general "Finance" forum and not specific to Financial Services, Banking or Family Offices.
iCause.com promotes public events for free and helps event organizers connect with nonprofits to attract more participants like you.
Additionally, the iCause Global Foundation enables good people to fund great causes around the world. Together, our impacts are limitless!