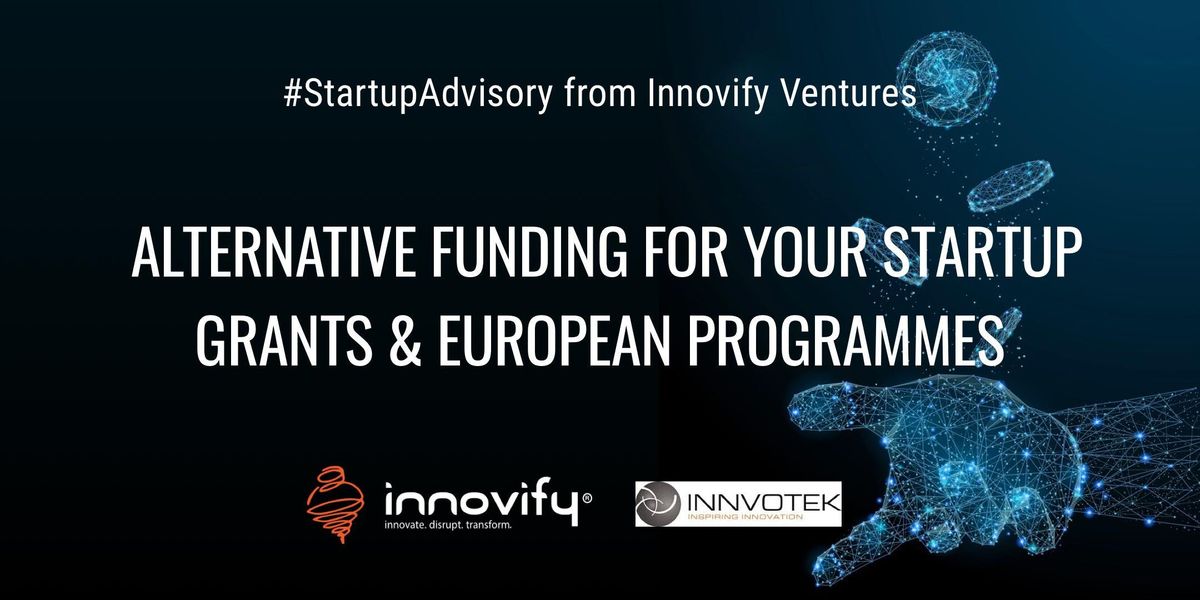 WeWork Tower Bridge, 1 Saint Katharine's Way, London, United Kingdom
Innovify
Spread the word
#StartupAdvisory workshops are monthly meetups of the London Co-Founder Club organised by Innovify Ventures.  In May, we have #StartupAdvisory session with Carolina Fernandes - Innovation Director at Innvotek. 
The workshop is aimed at start-up and growth companies that are using or developing new technology and/or investing in research and innovation.
It will help you identify the most appropriate innovate UK funding, grants and European programmes to help your startup grow.   
Agenda:
17:00 - 17:25 Welcome at WeWork Tower Bridge17:30 - 17:35 Innovify Ventures Intro17:35 - 17:40 Innvotek Intro17:40 - 18:40 Workshop18:40 - 19:00 Q&A & Networking (Free beer & refreshments)  
The Speaker - Carolina Fernandes - Innovation Director at Innvotek 
Carolina has an extensive background in Access to Finance and Funding, Innovation Management and in supporting businesses in commercialisation of innovation. With a proven track record in supporting SMEs and Universities in acquiring funding and in helping organisations source technology, Innovation and business partnerships, Carolina has played a key role in the sourcing and assessment of investment opportunities and management of investor relations. She holds an MSc in Industrial Engineering and Management from Chalmers University of Technology (Sweden) and a diploma in Innovation, Strategy & Entrepreneurship, where she focused on the connection between high-value entrepreneurial opportunities and collaborative innovation. Carolina has been appointed by the European Commission as an expert evaluator to assess and select innovative and investment worthy projects in response to specific scientific and technology H2020 calls for proposals in the areas of smart energy, smart cities, ICT, healthcare and robotics. In the past, Carolina also had the role of Chair EU Sector Group Digital & Creative Industries, coordinating, programme managing and providing leadership and direction to a group of EU experts on business support businesses operating within the Creative Industries.  
Innvotek is a team with a unique mix of scientists, technologists, business leaders, strategists, engineers, mathematicians, programmers, attorneys, IP experts, and support staff. Our connection with the academic world makes sure that we always have access to the latest research and knowledge in innovation. Innovation asks for open-minded people that enjoy creating new products and services, which dare to challenge how things are done today and are unafraid of what tomorrow will bring. New ideas often originate and improve when multiple disciplines work together. Our employees are people that can cross boundaries and connect with other disciplines. Furthermore, we have an extensive network of specialists that we can call upon to assist in projects, if need be.  
Innovify Ventures
Innovify Ventures represents a subsidiary of Innovify - one of London's most innovative Digital Product Development Companies. Over the past three years, Innovify has provided CTO and product development services to startups such as Teaglo, Gener8, Landbay, Kwanji, BrickOwner, Instantt and more, enabling them to go from early stage MVPs to full-blown, operational companies.
Innovify Ventures is an early stage digital start-up studio with an enviable track record of launching many high growth start-ups. We help ambitious founders validate their ideas and develop MVPs to find product-market fit. Innovify Ventures brings wide and deep tech expertise to build highly scalable infrastructures and automated workflows with minimal overheads. We further coach the founders to establish profitable business models and accelerate them to series A investment in a fast and cost-effective manner. We are continuously nurturing our network of partners to save time for start-up founders by facilitating the right support to accelerate growth.
 For more information, contact Elena at
elena | innovify ! com
Want to pitch to us? We are organising monthly pitching days. Check our Meetup.com group - London Co-Founder Club