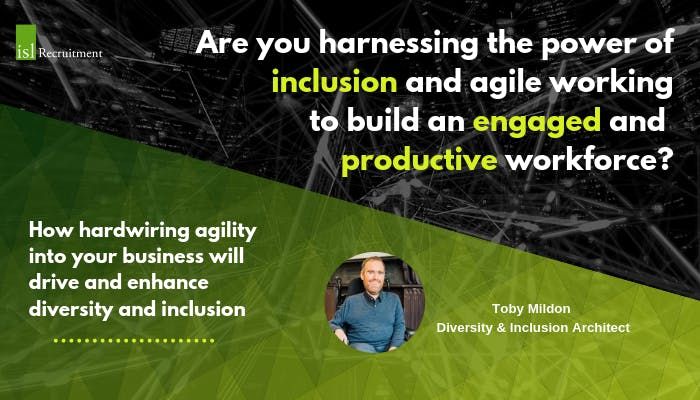 Just Eat Head Office, Fleet Place House, London, United Kingdom
Eventbrite
Spread the word
Are you harnessing the power of inclusion and agile working to build a more engaged and productive workforce? 
Toby Mildon, renowned diversity and inclusion architect, leads our talk on hardwiring agility into the heart of your technology business. Toby shares his belief that "reasonable adjustments" (usually reserved for disabled employees under the Equality Act 2010) should be made available to all, so that every employee has access to the tools they need to thrive in their job, and enhance their productivity.
Toby will discuss:
- The frequent challenges technology companies cite against introducing reasonable adjustments for all
- The actions you can take to drive change within your D&I strategy
- The outcomes you can expect to see
- Practical examples of changes you can introduce, whether you're a scaleup or multinational organisation
- Case studies of how introducing reasonable adjustments has impacted teams regardless of gender, race, religion or disability.
*At the event you'll have opportunity to sign up for a free follow up strategy session with Toby Mildon. Toby offers to guide you through putting ideas into action plans, tailored to your individual technology business*
Who should attend? Technology business leaders or senior management, and those involved in creating and driving diversity and inclusion strategy.
The talk will be followed by Q&A, and opportunity for networking. We will be providing refreshments throughout the evening.
We look forward to meeting you on the 20th June at the Just Eat HQ. Please do register for the event to enable your access on the night.