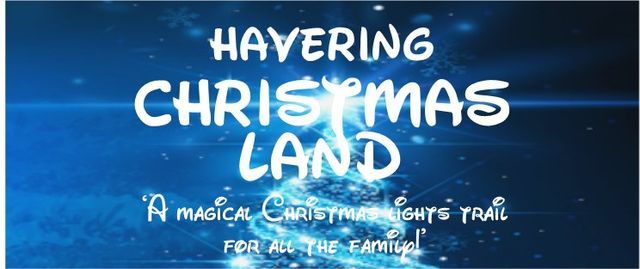 Harrow Lodge Park, London, UK, London, United Kingdom
Christmas Fest UK
Spread the word
WE ARE HOPING TO STILL BE ABLE TO GO AHEAD WITH THE ATTRACTION THIS YEAR WITH SOCIAL DISTANCING, AND NEW HYGIENE RULES IN PLACE.
OBVIOUSLY AT THIS STAGE, THINGS ARE SUBJECT TO CHANGE.
BUT FOR NOW......
Local mental health charity Havering Mind presents a unique and magical Christmas attraction for the local area......Havering Christmas Land!
OPEN 26 NIGHTS ACROSS DECEMBER
As well as decorating the historic Harrow Lodge House building inside Harrow Lodge Park, next to Hornchurch sports centre, the secret garden next door to the building will be turned into a stunning Christmas lights walk through!
With a 000s of lights, decorations and Christmas scenes, this will be a magical land not to miss over the festive season!
Entry into the walk will be £3pp, with all money raised going to Havering Mind to help them to support more people throughout 2020!
(Babies under 2 go free. No concessions)
It is advisable to check the facebook event page before you come on the evening to double check. (in bad weather we may have to close)
We are hoping to have santas grotto open on every evening. However santa may have to dash back to the north pole at certain points and may not be there! In this case it will be advertised on the facebook page in advance.
No pre-booking available - just turn up!
Please note: This attraction may not be suitable for people with epilepsy - it has 000s of flashing lights!
Dogs will not be allowed in the garden walkway (with exception of assistance dogs)
For the avoidance of any doubt - this is NOT a fair ground! - there are no rides!
This will also be about raising awareness of the secret garden for the blind, which is an under utilised part of Harrow Lodge Park. We will be donating plants and other objects to the fantastic team of volunteers at Havering Volunteer Centre who look after the garden throughout the year. For volunteering opportunities regarding gardening throughout the year with them please contact them directly.
For volunteering opportunities at the Havering Christmas Land itself, please contact
ciaran ! white | haveringmind ! org ! uk
iCause.com promotes public events for free and helps event organizers connect with nonprofits to attract more participants like you.
Additionally, the iCause Global Foundation enables good people to fund great causes around the world. Together, our impacts are limitless!