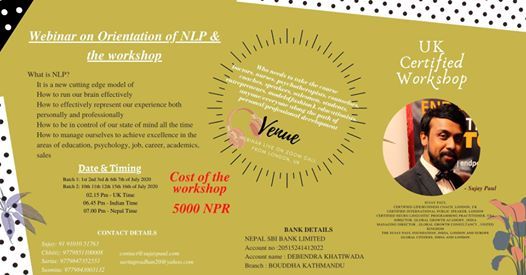 London, United Kingdom
Sujay Paul
Spread the word
I welcome all of you to be a part of this life and career defining online workshop, How to be an NLP Practitioner..
Before that, you need to know:
What is NLP?
It is a new cutting edge model of
*how to run our brain effectively
*how to effectively represent our experience both personally and professionally
*how to be in control of our state of mind all the time
*how to manage ourselves to achieve excellence in the areas of education, psychology, job, career, academics, sales
Who needs to take the course :
doctors, nurses, psychotherapists, counsellors, coaches, speakers, salesmen, students, entrepreneurs, models(fashion), educationists, anyone/everyone along the path of personal/professional development..
So what are you waiting for. Be a part of this workshop and excel in all that you dream of in your life and live your life to the fullest..
The total cost of the workshop is 20,000 NPR, however keeping the pandemic and the current situation in mind, we are giving a one off straight 75% discount, therefore what you would be paying is only = 5000 NPR for this workshop.
You can enrol for any of the 2 batches:
1st batch - 1,2,3,6,7th July 2020
2nd batch- 10,11,12,15,16th July 2020
Bank Details:
NEPAL SBI BANK LIMITED
Account no :20515241412022
Account name : DEBENDRA KHATIWADA
Branch : BOUDDHA KATHMANDU
AMOUNT: 5,000 NPR
To register, you need to fill the following google form with your details, make the payment at the above bank details and attach the screenshot of your payment in the google form. Once done, we shall confirm your registration and share all the training details for the workshop..
https://docs.google.com/forms/d/e/1FAIpQLSdecJmQKdqbvV5AgiGGoHjWsV6HO5rrpXghBFlAp59l0FKzlw/viewform?usp=sf_link
We look forward to seeing you in this power packed upcoming workshop.
Regards
The Sujay Paul Team
iCause.com promotes public events for free and helps event organizers connect with nonprofits to attract more participants like you.
Additionally, the iCause Global Foundation enables good people to fund great causes around the world. Together, our impacts are limitless!