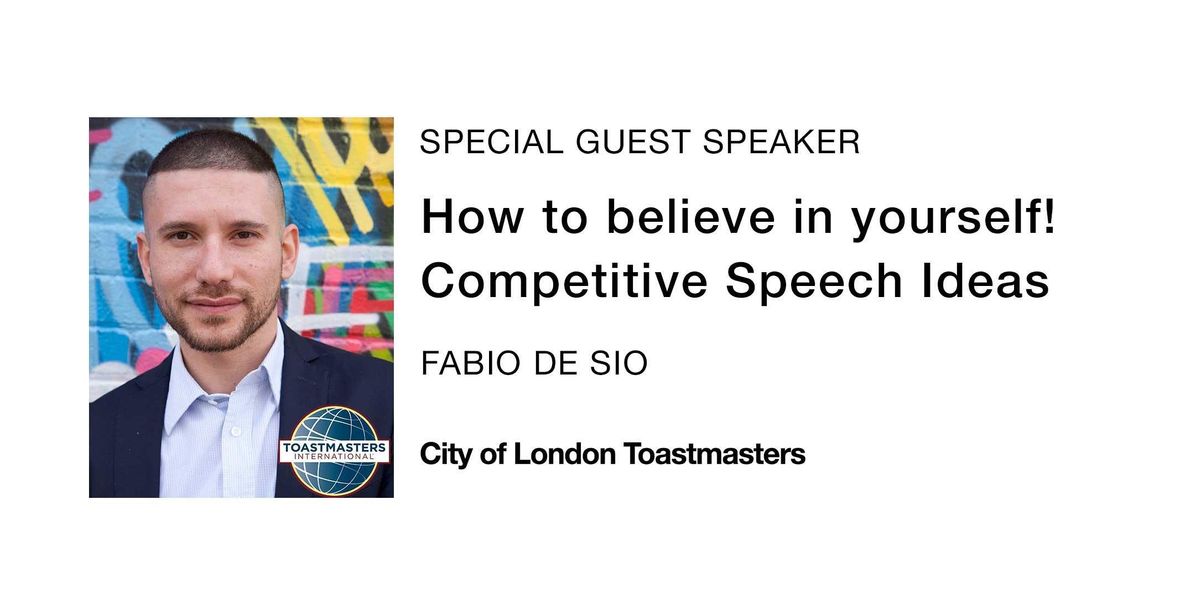 Saint Botolph Without Aldgate, Aldgate High Street, London, United Kingdom
City Speakers
Spread the word
City of London Toastmasters is pleased to host a special guest speaker open for all on Tuesday 15th of January
About the meeting:
Public Speaking is often on people's resolution list. Joining a Toastmasters club like the City of London help its members become better leaders and communicators. Traditional meetings are structured with improptu speeches in the first half of the meetings and prepared speeches in the second half. This meeting is holding a special speaker in the first half of the meeting where Fabio will share competitive and entertaining speech ideas. After a 10 minutes break, the second part of the meeting will host 4 prepared speeches and 4 evaluations. Join us at the pub after the meeting to network with other guests and current members.  
About Fabio De Sio:
Fabio De Sio's career started 11 months ago in the field of public speaking. Winner of the Distric 91 in May and in Chicago in August for the World Championship of Public Speaking, he achieved the result he had in mind: to have a clear purpose in the message one delivers. For Fabio, life was not always as easy as it seems to be but along the way, finding his purpose in this world as a public speaker played a vital role in his recovery process. In the process of identifying the problems he faced and recognising the underlying causes, he strongly felt that he could use this experience to help others.  Fabio De Sio is a life coach from Italy, who is passionate about the positive power of Integral Coaching. Now living in London, Fabio feels that both his professional and personal experience with coaching will provide support to his clients and help them to achieve their goals
Event details and FAQs:
The special speech will take place during the first half of the meeting. A traditional 10 minutes break will allow guests to network and interact with our guest speaker Fabio De Sio. The second part of the meeting will be composed by prepared speeches and evaluations from the club members.
You do not need to be a member of Toastmasters to attend. Everyone is welcome! You will be asked to enter your name and email address at the entrance in case you wish to be contacted in the future.
The event will be held in the main church.