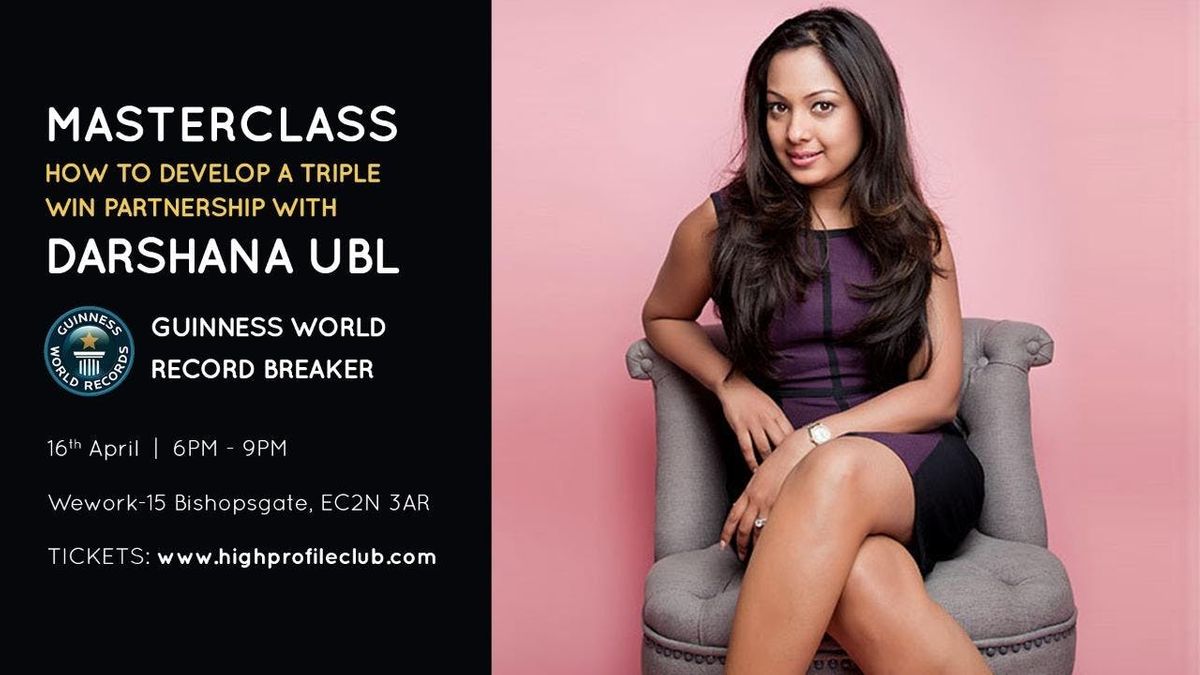 Wework, 15 Bishopsgate, London, United Kingdom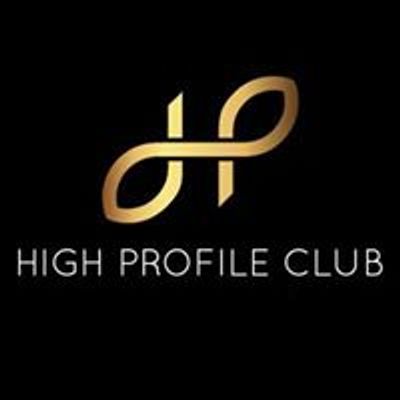 High Profile Club
Spread the word
Growing a business is tough, we know. But if you work with partners it shouldn't be so tough, so we invite you to come along to our workshop to learn all about the Triple Win® Method develop by Darshana Ubl, who managed to break a world record in 2014.
What you're going to learn if you attend this workshop:
- how to develop a triple win partnership where you win, your client win and your partner wins;
- how to approach partners with partnership propositions;
- how Darshana engaged with brands such as Aston Martin for her new luxury holiday on wheels business Verve Rally;
- how to grow sales and distribution of your business with partners  
Keynote Speaker  
Darshana Ubl is a serial entrepreneur who believes in blending her passion with work to create businesses that are aligned in values and goals.
She cofounded Verve Rally in 2016, a sports club that provides luxury adventure holidays with GT/Supercars. Based in London, Verve Rally has created memories in the lives of hundreds of people. For more information visit 
http://www.ververally.com
As an investor and a sustainability advocate, Darshana sits on the advisory boards for a number of businesses.
Darshana is regularly invited to contribute in the UK and international media for her views on the economy and business generally. She has been an ambassador for small business on BBC News, Sky News, BBC Radio and more. Over the past years, she has been frequently seen on BBC News commenting on UK budget and Autumn Statement.
As a keynote speaker, she has delivered talks on business, TripleWin®, women empowerment and sustainability to companies such as Alibaba, DBS Bank, NatWest Bank, SagePay,etc. Her talk on the TripleWin method was featured on TEDx and she also lead one of the companies she was a CEO of to achieve a Guinness Book of World Records title.
Contribution is key for Darshana and she has helped raise funds for several charities such as Princes Trust, Cherie Blair Foundation and Make a Wish Foundation. Once a year she organises a Charity Gala called Verve Charity Gala in Central London.    
This event is organised by High Profile Club
What is HIGH PROFILE CLUB?
We are an award-winning tech PR platform that gets you featured in the media. We're a growing community of entrepreneurs who are experts in their field and keen to help one another to grow their businesses.Our members have been featured in Forbes, BBC, Grazia, Smallbusiness.co.uk, Startups.co.uk, CBNC, TechRound, The Daily Mail, Metro, Virgin Television and many other magazines, newspapers and news websites. Check highprofileclub.com/features see all the features we managed to get our clients.
If you would like to speak to us about membership in order to get featured in the media, contact Tanya via email: 
credibility | highprofileclub ! com
Please note that all of our events are recorded. If you would not like to be photographed or filmed, please let a member of staff know on the day.
PLEASE NOTE: You can attend up to 3 events if you are not a member of High Profile Club.