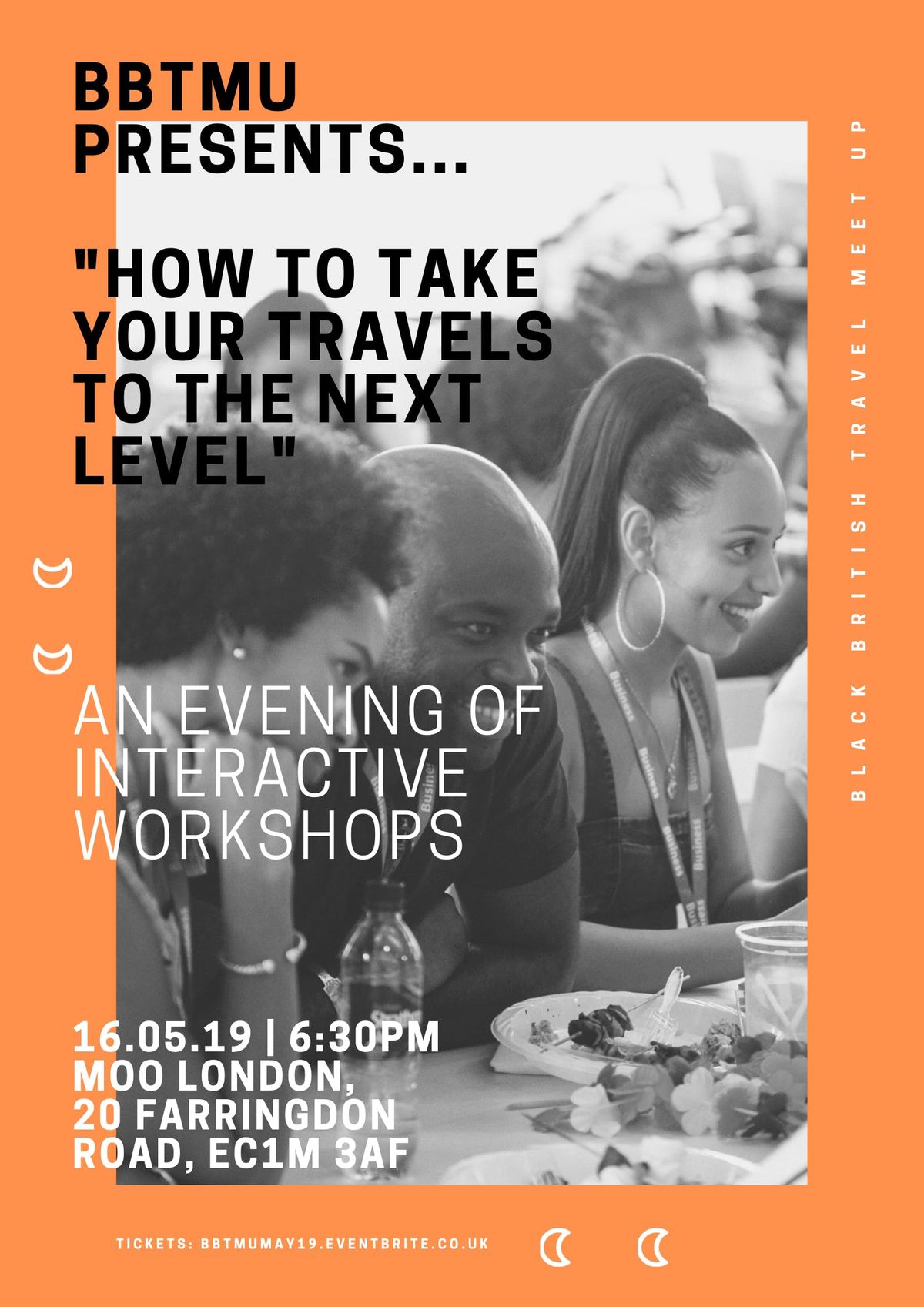 Moo, 20 Farringdon Road, London, United Kingdom
Eventbrite
Spread the word
Hey people!
It's been a minute but we are super excited to invite you to our second event of 2019!!  
Black British Travel Meet Up presents "How to Take Your Travels to the Next Level" at MOO London! An event that will enhance your travelling experience by giving you amazing gems and practical information to implement for your travels ahead. Whether it's how to take amazing photos on your travels, boost your engagement on your social media platforms or learn how to pitch to brands - we gatt you!  
As always, all are welcome! Whether you're an avid traveller, hoping to travel soon one day or simply looking to develop a few practical skills!  
We've got some amazing speakers and workshop hosts who will be sharing their expert knowledge and showing you how they do what they do.  
We're switching it up with "speed dating" style workshops hosted by our experts in the four areas:  
Travel photography & film-making 101. How to tell captivating engaging stories through photos & videos. 
Travel Tips 101. How to maximise the best out of where to stay & how to book the most affordable flights. Ran by Doyin (@movewithdoyin), the travel queen who never shy's away from sharing her travel knowledge and gems she's gained from travelling for over 7 years and running a dynamic travel company The Wind Collective. Check her out on Instagram!
The Influencers Guide. How to successfully pitch to brands. Do I need an agent? How much should I charge for content?
Social Media 101. How to create an effective engaged & growing community on Social Media.   
Don't worry! You'll get a chance to hear and learn from all sessions throughout the evening - featuring some of the best content creators, social media experts and travellers in our community. More info on speakers coming ASAP!    
It'll be an evening full of good vibes, good food, building new skills, networking, celebrating black travel, and as always, there's prizes to be won! Be sure to get your ticket ASAP as spaces go fast. If you're thinking about it, why not come and check it out with a friend or even solo? You don't need a travellers license to attend (lol) but just expect super good vibes!  
Your ticket includes: West African delicacies (yes, a full meal lol), a cocktail or mocktail on arrival and all access to the event! Get your notepad & pen ready to learn how to take your travels to the next level!  
Any question? Feel free to pop an email to
info ! bbtmu | gmail ! com
.  
Peace and love,  
Team BBTMU!  
#BBTMU