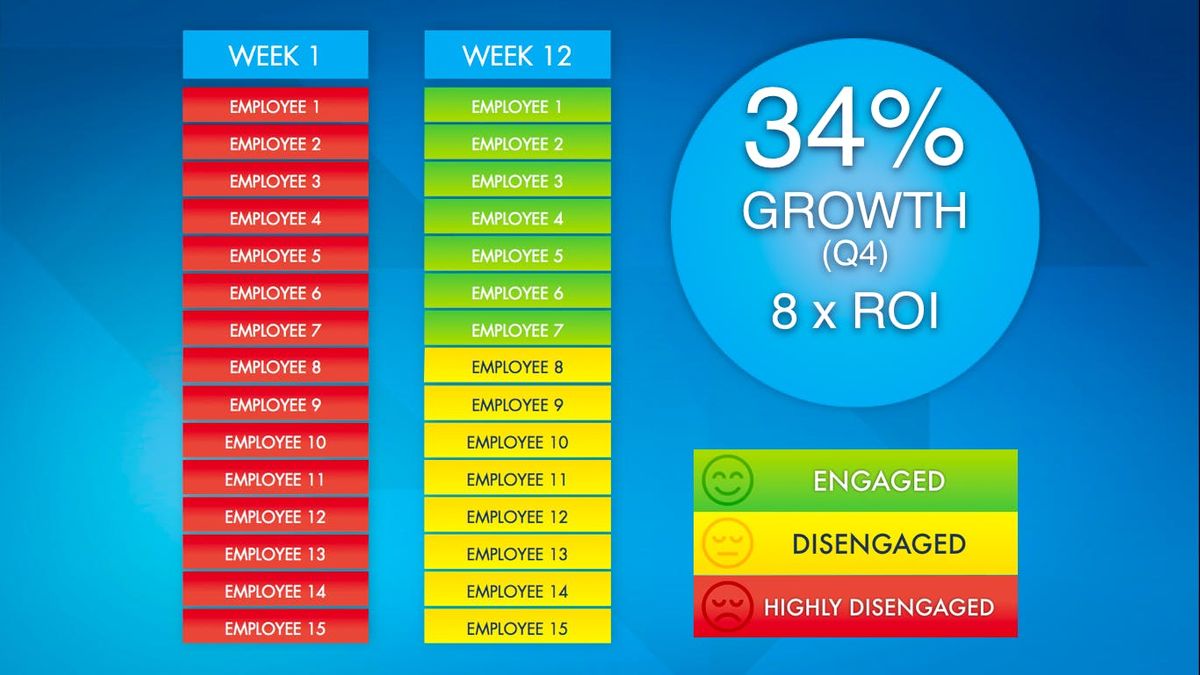 London, United Kingdom
Eventbrite
Spread the word
Are you a CEO, MD, FD, HR lead or team manager looking to increase profitabilty, workplace engagement, team performance and culture?
How is the lack of employee engagement impacting productivity and profitability?
Here are some recent UK stats from Gallup that might explain why your Company isn't performing anywhere near its potential:-
Only 11% of the workforce are highly engaged
68% of the workforce are disengaged
21% of the workforce is actively/highly disengaged
The cost of a disengaged employee is a whopping 34% of their salary!
In this 90 minute WEBINAR session, you will learn the reasons behind these stats, what you can do about it, and how to create transformational change in just 12 weeks!
Often as a Company grows, the direct line of sight to the original mission and culture has become foggy or even lost.
With a lack of clear direction and a set of guiding core values, many Companies become havens to those with a "ME" mentality.
As new people come into the organisation they often follow the majority and if that's a majority of "ME"s then that's where they stay.
As business leaders its critical to re-engage the team to give them back their purpose and make some discoveries on the way. With a re-energised and re-engaged workforce, the Company will be a high performing fun place to work, with a winning "WE" mentality which will attract the people and the customers you want.
It's never too late to challenge the culture that exists and start creating a new one!
You hear about companies that have done just that - the that  company made 34% increase in Q4 and 8 times return on investment?
 The company who turned a 5.4k sales pipeline into 2.4million in just 12 weeks, or the company that had a 292% increase in employee engagement in 3 months?
Ideal for any business with teams of 5+
You  will get the opportunity to assess your current team or business through understanding the foundation required for a high performance team or business, get an understanding and visual representation of what you're doing well, what needs improvement, as well as understand the true cost of disengagement.
You will learn how you can light a fire within your organisation, reconnect with the core values of why the business exists and how to push that message from top to bottom and see a rapid, tangible difference in the company's overall performance!
The benefits of building high performing teams is that no only do  they build your business, you will also experience:
lower staff turnover
lower absenteeism
less lost management time dealing with improvement plans/disciplinaries
improved sales
better customer service
Is it right for me?
If you are an SME or Corporate and you ready for better performance, increased productivity and profits without sacrificing your health or happiness, then Engage & Grow can help you achieve  high success and ROI in only 12 weeks!