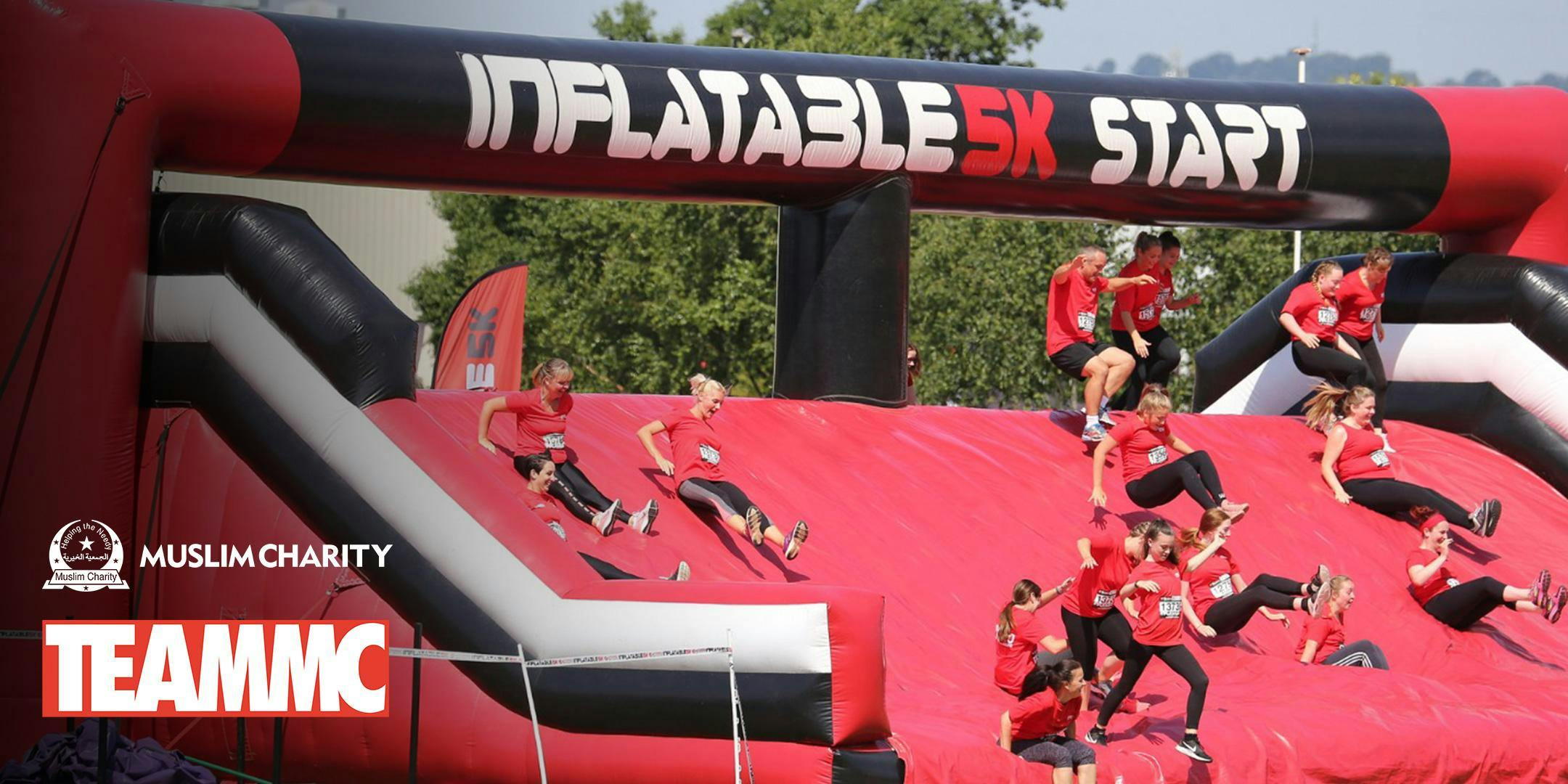 E1 2LR, Hessel Street, London, United Kingdom
Muslim Charity
Spread the word
Inflatable 5K
The UK's best Inflatable obstacle course has got even bigger, bouncier and more incredible. Tackle 15 Gigantic obstacles and join TEAMMC on the biggest Inflatable 5k obstacle event ever created.
Bring your friends and family and come tackle our exciting brand-new Obstacles in 2019!
"The best thing to happen to running, since the invention of trainers!"
The 2019 course will see 15 gigantic inflatable obstacles being placed around a 5km course. The obstacles are some of the largest, most extreme and enjoyable inflatable obstacles ever created. These fun inflatables allow participants to bong, bounce, crawl, climb and slide their way around the 5km course.
Despite their massive size, the events are suitable for participants of all athletic abilities and families, and children are actively encouraged to take part.
Inflatable Run Essentials
Date: Sat 5th October 2019
Venue:
Barleylands, Barleylands Road, Billericay, Essex CM11 2UD
Time: 09:00 Leave from TEAMMC HQ, East London Fundraising target: £150
Reg Fees: £15 
The Cause
Muslim Charity works across the globe advocating for children rights. These children often are child laborers and are prime victims of trafficking. Our schools will provide the safe haven they need during the day while their parents are working.  
All our schools are placed in vulnerable communities such as 'slums'. They provide education, confidence, and a safe haven from their difficult lives.
Our 'slum' schools are based in Bangladesh, Kenya, and Pakistan. Some of these schools are based near brothels, rubbish dumps, and areas where there is no form of sanitation.
Together we can provide a meaningful experience for children to be happy, to learn, and to fulfill their dreams and aspirations.
FAQ
Is there an age limit?
We have no age limit, but participants need to be taller than 1.3 meters to take part. Under 16's must be accompanied by a participating, paying adult.
Can I walk instead of run?
Yes, everyone is welcome to complete the course at their own pace.
What is included in my entry?
Entry fees, TeamMC T-Shirt and refreshments
What should I wear?
Want to get dressed up for the run? Go for it! We would recommend light running clothing, including a long-sleeved top and good running shoes. A rain jacket is also a good idea if we have wet conditions on the day.
Can I bring my friends and family to watch?
Yes, they are very welcome to come and watch at no cost. Why not encourage them to enter on the day and give it a go?!
Is there parking available?
Parking is charged between £3 - £5 per car depending on venue (please check your event pack for further details), please have change ready for our parking marshals.
Can I skip sections on the course?
Yes, if you don't feel like doing a particular obstacle, just walk around it
Is water provided on course?
Yes, we have a water station approximately half way around the course. Can I wear a GoPro?
You are able to wear an action camera yes. It is your own responsibility to keep this safe and undamaged.
Can I wear a backpack? No. You will need to leave your bags in our bag drop for £2 per bag. Alternatively, you will be able to leave these in your car or with family or friends.
For more information about the inflatable run please call
Abdul Hannan,Community Engagement Officer,T: 0207 100 4930/ 07715 316 840E:
hannan | muslimcharity ! org ! uk