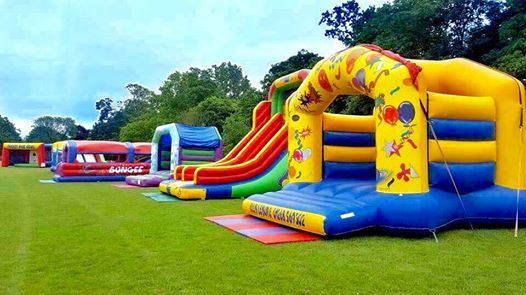 Harrow Lodge Park, Harrow Lodge Park, RM12 4 London, United Kingdom, London, United Kingdom
Ellis Leisure Bouncy Castles
Spread the word
Ellis Leisure is hosting an inflatable fun day for children of all ages to come and enjoy at Harrow Lodge Park, Romford, RM12 4PL.
Every Monday and Wednesday of the Easter school holidays, Ellis Leisure will be at Harrow Lodge Park to provide a range of inflatable fun. You can expect mega assault courses, bouncy castles, slides, bungee runs and more.
There will also be an area dedicated for smaller, less confident and disabled children, so everyone can enjoy the day.
Dates & Times:
12:00 - 16:00
Monday 15th April 2019
Wednesday 17th April 2019
Monday 22nd April 2019
Wednesday 24th April
Prices:
£7.00 a wristband for main area (all ages)
£4.00 a wristband for baby/toddler area (recommended for ages three and under)
Please note that a Main area wristband allows for access into the baby/toddler area - age/height restrictions apply.
Wristbands are available for sale at the event only and wristband sales will be capped. Please note queues for wristbands sales and use of popular inflatables could be expected for busy periods.
Parking & Access:
The inflatable site will be located at either the North East end of Harrow Lodge Park, near Hornchurch Sport Centre and Havering Indoor Bowls Club or the middle of the Park near the cafe and lake.
The closest pedestrian entrances are:
Sport Centre entrance via Hornchurch Road A124 (RM11 1JU) for North End
Pett Close via St Leonards Way (RM11 1FF)
Pathway cross Ravensbourne via Abbs Cross Lane (RM12 4XR) for Middle
The park itself has use of multiple car parks:
Hornchurch Sports Centre car park which is the main entrance to the inflatable area (RM11 1JU)
Harrow Lodge Car Park (RM12 4QZ)
There is also a car park extensive on-street parking along Warren Drive and St Leonards Way with direct access to the park's playsite where we are located.
Food & Refreshments
Harrow Lodge Park has its own cafe serving hot and cold food along with drinks, ice creams and other sweets.
Please feel free to pack and bring a picnic, there will be plenty of open space for you to enjoy the park. There is also a flower garden for you to stroll through.
Other services/entertainment (at cost):
Face Painting: We will have on site a facepainter who can also be available for private bookings. Please see the pages specific details for the facepainter at this event as contact details and prices vary.
Coco Shy Game: There is a traditional fete game to play, whereby you throw balls to a target, hit it and you win!
3 balls: £1
5 balls: £1.50
Health and Safety
One of the team is a qualified paramedic, as well as other members being first aid trained. However on top of this, when available we have St John's ambulance or Red Cross stationed on site to put your concerns at ease.
Ellis Leisure also have £10,000,000 public liability insurance and will not ever run an event to less standards which are put upon us or if we deem it unsafe.
For any other information about Ellis Leisure as a company, private hire and events and future dates, please take a look at our website:
www.ellisleisure.co.uk