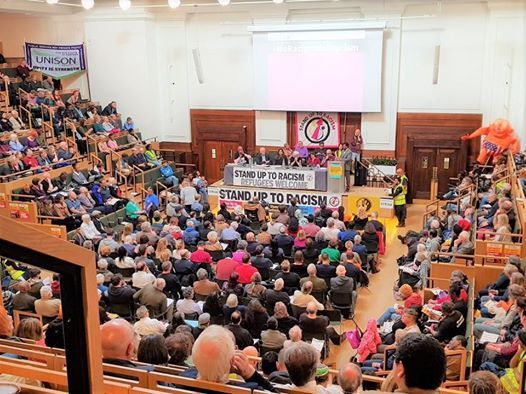 Friends House, Friends House, 173-177 Euston Road, NW1 2BJ London, United Kingdom, London, United Kingdom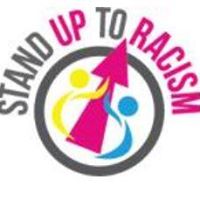 Stand Up To Racism
Spread the word
Speakers include: Gary Younge, Journalist • Miguel Roldan, Spanish firefighter • Louise Raw, author • Richard Burgon MP • Emma Dent Coad MP • Alex Mayer MEP • Claude Moraes MEP • Julie Ward MEP • Jean Lambert, Green Party • Mark Serwotka, PCS General Secretary • Kevin Courtney Joint General Secretary NEU • Tony Kearns Deputy General Secretary (postal) CWU • Jane Loftus, CWU Vice President • Nita Sanghera UCU Vice President • Anas Altikriti, Muslim Association of Britain • Ged Grebby, Show Racism the Red Card Chief Executive • Mohammed Kozbar, Finsbury Park Mosque Chairman • Unmesh Desai, GLA Member, Labour, City and East London • Damien Gayle, Journalist • Ben Chacko, Morning Star editor • Rakhia Ismail, Islington Councillor • Gerry Gable, Editor/Publisher, Searchlight • Sabby Dhalu and Weyman Bennett, Stand Up To Racism
Sessions include: • Challenging the rise of racism, Islamophobia and antisemitism • Windrush, Grenfell, deaths in custody - The fight for justice • Reporting racism - The media and the growth of racist ideas • Solidarity forever - Refugees and migrants welcome here • A coordinated international movement against Trumpism & the far-right • Love Music Hate Racism - culture & the anti-racist movement • Fighting Islamophobia in the age of Boris Johnson
Fueled by Donald Trump's presidency, racism, Islamophobia and antisemitism are on the rise.
Hate crime and far right terror attacks are at epidemic proportions, and the racist and fascist right are experiencing the biggest growth in their support since the 1930's.
In Britain, with the toxic nature of the debate around the deepening Brexit crisis, mainstream politicians have relied ever more on ratcheting up racist division and scapegoating, deliberately fostering a 'hostile environment'. We now have populist racists centre stage of politics, with "Britain's Trump", Boris Johnson, sitting as Prime Minister. Whether you voted Leave or Remain, we must unite to oppose their racist agenda.
Johnson described Muslim women who wear the Burka as looking like 'letterboxes' and 'bank robbers' and described black people as having 'watermelon smiles'.
Brexit Party leader Nigel Farage has built his career on scapegoating migrants and the Muslim community.
And while fascist Tommy Robinson and far right UKIP have been marginalised through successful anti racist campaigning, Johnson and Farage's politics of divide and rule, scapegoating refugees, migrants and Muslims will only embolden the racist and fascist right.
While thousands suffer as a result of the hostile environment, the Windrush scandal, institutional racism, the Grenfell disaster and the humanitarian crisis facing refugees--a Johnson government is only set to fuel the fire.
On Saturday 19 October anti racists and anti fascists from across Britain, Europe and the US will gather in London at this international conference.
Come and join the debate about how we build an international movement against racism & fascism and how we drive back the populist racism of Johnson and Farage