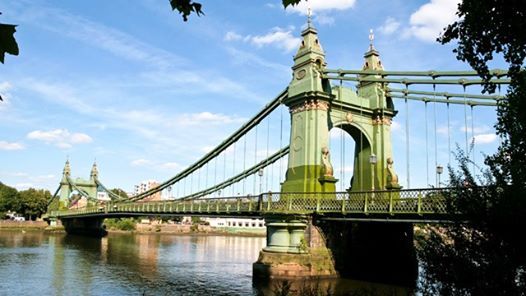 Hammersmith Riverside Events at the Auriol Kensington Rowing Club, 14 Lower Mall, W6 9DJ London, United Kingdom, London, United Kingdom
Erin Kreitz Shirey - Inspirator Coaching & Fitness
Spread the word
2020 is here and Spring is the time to shift into the magic of all you can do!
Join us in LONDON for a life-changing transformational Retreat that will shift your entire life!
Inspirator TM-
An Inspirator and Motivator in ONE. - Emerson Shirey, age 5
Ladies, you deserve a day just for YOU!
One day to be taken care of, with like minded ladies eager to leap into the first Spring of the new decade in delight! One day to get energized, goal up, learn how to do less, exercise, nourish your mind-body- soul, learn how to create and enjoy healthy food, do yoga and soak in all the MAGIC YOU ARE!
Inspirators, YOU deserve one day for fitness, inspiration, motivation, healthy food and laughter. Lots of laughter and loving on the one, incredible YOU!
ONE day to soak in time for YOU!
ONE day to learn Workout Windows and how to apply them!
ONE day to dive into building and creating your Dream Life!
ONE day to jump into turning your current Fears into Fuel!
ONE day to do Yoga under the Sunshine, Boot Camp along the Thames and Stretch without time limits because it feels so good for your body!
ONE day to spend with other strong minded, heartfelt, inspiring and empowered women who lift you up!
ONE day to take time for YOU because you deserve it!
Ladies, YOU work so hard and are great and supporting everyone you love. NOW it is time for you to take care and celebrate YOU!
Register with your best friend & both receive a bonus 30 minute 1:1 Coaching Session with Life Changing Inspirator Coach Erin Kreitz Shirey post retreat! $197/value!
Friday, March 6th, 2020
10:00 am-4:00 pm
Hammersmith Riverside Events at
Auriol Kensington Rowing Club
14 Lower Mall
Hammersmith
London W6 9DJ
​Testimonial:
"I gave myself permission to take one day and it was the best gift I gave myself, thank you!
I loved meeting the other women. I loved the camaraderie. I could bond with the other women over these things and hear new ideas and come up with solutions and commit to not only to myself but to others to follow through on these new ideas and solutions.
There are so many wonderful bits of wisdom in how I want to live my life that I gained at the Retreat, in addition to enjoying every workout alongside other strong and incredible women.
I can hear Erin's words shared, "If your goal is to run a 5K, sign up today- do it now! Pull out your phone and find one to sign up for. Visualize you in 6 months what do you want to be able to look back and say that you did. Start doing it now and in 6 months you will have that awesome moment when you look back and see that you actually did those things.
Thanks for a great retreat!"
- Sharon B., 41, Marketing Director, Mom of 2
Retreat includes the full day of activities, Inspirator Coaching, Lunch and healthy snacks, workbook and goodies. Space is limited to 20 women.
The Inspirator 2020 Day Retreat is led by led by Founder/CEO of Inspirator Coaching & Fitness, Best Selling Author, Award Winning Master Trainer and Mama to 3 Amazing Daughters, Erin Kreitz Shirey and features Special Guest who is magical and inspirational in more ways than you realize, London Master Integrative Nutrition Health & Life Coach Danielle McCurdy!
They are both Award Winning Leaders in their fields, educated with their BS and MBA in Kinesiology, Health and Business, in addition to hours being certified and trained in various realms of Health, Nutrition, Coaching and Fitness Formats among others.
Together, they will empower you to commit to loving on the ONE YOU in 2020, learn how to OWN your time, and feel energized to live your Dream Life right now!
Grab Your Best Friend & Register today!
iCause.com promotes public events for free and helps event organizers connect with nonprofits to attract more participants like you.
Additionally, the iCause Global Foundation enables good people to fund great causes around the world. Together, our impacts are limitless!